CCS of Utah Humanitarian Awards Dinner
Friday, Oct. 12, 2018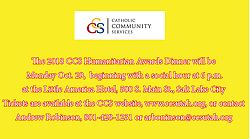 Intermountain Catholic
+ Enlarge
SALT LAKE CITY —Each year, the Catholic Community Services of Utah Humanitarian Awards Dinner honors those who are making a difference in the local community.
"From the smallest to the largest voices, we recognize those who are dedicated to making Utah a better state and improving the lives of all who live here," said Danielle Stamos, marketing director for CCS.
This year, Dr. Chris and Mrs. Kathy Hill, and Brent and Ann Wilson will be honored.
The Hills are being awarded the Lifetime of Service Award at the 2018 Humanitarian Awards Dinner for their years of dedication to our community through education, sports, and service, Stamos said.
"Chris and Kathy's legacy as educators, their dedication to improving the lives of those living with severe disabilities, and their commitment to leading our community speaks to the wonderful work that has taken place under their guidance and leadership. We believe that everything the two of them encompass as individuals and humanitarian leaders represents the true spirit of this award," she said.
Brent and Ann Wilson will be honored for their humanitarian efforts.
"They are committed to helping those in the direst situations improve their lives and reach self-sufficiency. As a couple, they live their lives in a way that inspires all those around them to do better and better. We are excited to be able to honor them and spotlight their great work in our community," Stamos said.
The Utah Department of Public Safety will be recognized as the CCS Partner of the Year.
Emphasizing that the honorees exemplify the people with a humanitarian spirit who work to offer care to all in the community, regardless of personal circumstance, Stamos said that "all that is required to make a difference is a caring heart, helping hand and shoulder to lean on. We consider ourselves very lucky to live in such a giving and humanitarian community. Our community leaders, including Chris and Kathy Hill and Brent and Ann Wilson, never hesitate to answer the call of someone in need, and no problem is ever too small or too big to solve."
WHAT: 2018 Humanitarian Awards Dinner
WHEN: Monday Oct. 29, beginning with a social hour at 6 p.m.
WHERE: Little America Hotel, 500 S. Main St., Salt Lake City
Tickets are available at the CCS website, www.ccsutah.org, or contact Andrew Robinson, 801-428-1231 or arboninson@ccsutah.org