Fidel O. Vigil
Friday, Sep. 18, 2020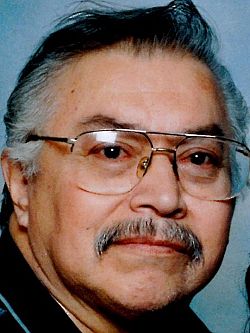 Courtesy photo
+ Enlarge
October 19,1941 ~ August 272020
Our loving husband, father, grandfather and brother was peacefully taken home to heaven at the age of 78 on August 27, 2020.
He was born October 19,1941 in Montrose, Colorado to Eufracio and Louisa Vigil. He grew up and attended schools in Dragerton, Carbon County. He served honorably in the United States Army during the Korean Conflict. Upon his return, he married the love of his life, Pauline Martinez, on July 13, 1974 in Salt Lake City. He received his cosmetology license and began his career at St. Joseph Villa. He was a candidate for the diaconate program but was unable to complete the course due to health issues. He was a dedicated volunteer for Sacred Heart Church and oversaw the C.C.D program for many years. He enjoyed music and had his own band called "Fidel Y Sus Sentimentos" alongside his children Kathy, Mark and Jeff.
He is survived by his wife Pauline; children Kathy (Kristi) Valdez, Mark (Phyllis) Maez, Jeff (Janet) Maez, Lisa Madrid and Benita (Rosendo) Vigil; siblings Leve (Carol), Lucinda (Tony) and Floyd (Arlene); many grandchildren, great-grandchildren and a great-great grandchild; many nieces and nephews; very special niece Grace. Much love to the Moreno family for all their love and support to "Tio."
Preceded in death by his parents; brothers Emilio and Eufracio Jr.; sisters Tiny, Juanita, Clara and Sofia; mother-in-law Benita Martinez; and son Paul Vigil.
He enjoyed spending time with family and the annual Vigil Christmas parties were his favorite as long as he received gifts from everyone who came. He also enjoyed relaxing on the porch with Mom and all the different types of animals. He was quite the jokester and always made everybody laugh, especially all the caregivers toward the end of his life.
Now that you're gone, Dad, we know that you are with Paul making up for lost time, maybe even joking around and having a few drinks. Please watch over us, your family here on earth. Until we hug again, rest easy, sleep sweet, and never forget we love you forever dad.
Special appreciation to the staff of the VA hospital and Community Nursing Services.
A funeral Mass was celebrated September 2 at Our Lady of Lourdes Catholic Church.
In lieu of flowers, donations may be made to the Humane Society of Utah, 4242 South 300 West, Murray, Utah 84107.