Utah's refugees gather for day of celebration
Friday, Jul. 13, 2007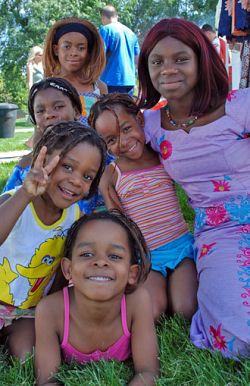 Intermountain Catholic
+ Enlarge
SALT LAKE CITY — "To welcome and give hospitality to refugees is an obligatory gesture of human solidarity," Pope Benedict XVI said at the end of his June 20 general audience, and for Christians it is "a concrete way to demonstrate Gospel love."
The pope spoke of the importance of drawing attention "toward those who are forced to flee their countries because of real dangers to their lives."
The pope spoke just days before the international observance of the United Nations' World Refugee Day, which brought hundreds of people to the campus of Granite High School in Salt Lake City June 23 to celebrate the diverse cultural gifts refugees have brought to Salt Lake City and Utah.
Speaking of the many gifts refugees have brought to their new home state, Salt Lake County Mayor Peter Corroon read an official proclamation welcoming refugee men, women, and children to "a new home; a new life" in Salt Lake County.
The refugees shared their native dress, dance, cuisine, song, and art with participants, and many told their personal stories of escape from war, torture, genocide, famine, economic deprivation, and persecution.
Utah has become home to more than 50,000 refugees from war-ton countries like Afghanistan, Congo, Iraq, Rwanda, Sierra Leone, Somalia, and Sudan, said Michael Styles of the Governor's Office of Ethnic Affairs.
The local World Refugee Day celebration began early in the morning with a lively soccer tournament.
Daniel Watt of Catholic Community Services' Refugee Resettlement Program, told the Intermountain Catholic some of the biggest challenges facing refugees and immigrants arriving in Utah are finding affordable housing and getting jobs.
"Catholic Community Services has a comprehensive refugee resettlement program," Watt said. "We make use of volunteers to assist our refugees in getting used to their new surroundings, getting to and from work, English classes, and school for the first six months."
In addition to entertainment, the local World Refugee Day celebration included booths where refugees could acquire information about the community and its services, health-related issues, and educational opportunities.
In following issues of the Intermountain Catholic, watch for stories of refugee individuals and families by IC intern Jessica Blake.
Want to help? Call Anne Davis at Catholic Community Services, 977-9119, ext 1242, or 428-1242. Volunteers are trained to mentor refugee families, teach life skills and Western culture, help with homework and learning English skills. Davis tries to pair Utah families with refugee families with children of similar ages.
CNS assisted with this story.