12 Days of Christmas - Do something positive each day
Friday, Nov. 27, 2020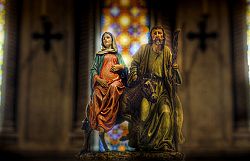 CNS photo/Lisa A. Johnston
+ Enlarge
You don't have to do these tasks in any certain order or even do all of them. You might think of something else that means something to you or your family.
Dec. 14 Send a Christmas card to a lonely parishioner.
Dec. 15 Heal a broken relationship with a friend or family.
Dec. 16 Attend daily Mass in person or via Facebook.
Dec. 17 Check on an elderly relative/neighbor.
Dec. 18 Give the gift of a compliment to a stranger, a friend or a family member. Be simple and sincere.
Dec. 19 Brighten someone's day with a special treat.
Dec. 20 Pray the rosary for an intention close to your heart.
Dec. 21 Listen today – no interrupting, no daydreaming, no planning your response; just listen.
Dec. 22 Hold a door open for someone or let someone ahead of you in line.
Dec. 23 Let someone merge in front of you when driving.
Dec. 24 Say a prayer, as a family, for the homeless.
Dec. 25 When you first open your eyes, before you get out of bed, realize why we are celebrating this day, the birth of our Lord Jesus Christ, and make him a part of your day.
Courtesy of the ladies of the St. Thomas More Parish Diocesan Council of Catholic Women