CRS Rice Bowl: A Story of Hope From Madagascar
Friday, Feb. 19, 2021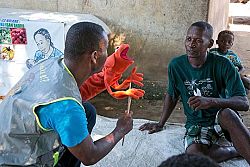 Photo by Jim Stipe/Catholic Relief Services
+ Enlarge
CATHOLIC RELIEF SERVICES — We all need food to nourish us and keep us healthy. Without food, we find it hard to concentrate, study, do our work or even play. Jesus often shared meals with friends and even strangers, and he teaches us to be generous in sharing what we have to eat with others.
In Madagascar, families gather to watch puppet shows that entertain and teach. They love seeing the brightly-colored puppets talk to each other, tell stories and ask the crowd questions. After each show, parents leave with new information to help their families.
Half of all children in Madagascar are undernourished, meaning they don't have enough nutritious food to stay healthy. Parents want their children to grow up healthy and strong, and the puppet shows give them new knowledge they can use right away to make sure that happens. Community health workers trained by CRS use the puppets to teach families about how doctor visits, hand-washing and rainbow foods – different-colored foods like tomatoes and carrots that have important vitamins and nutrients – are necessary to stay healthy.
Frankline and Labaladezy have eight children. Their youngest child, Thorin, is almost a year old. While Frankline was pregnant with Thorin, she and her husband Labaladezy watched the puppet shows and learned new ways to support Thorin's growth and development. When Thorin was born, his parents fed him different, more nutritious foods and took him to the health center for regular check-ups. Thorin is growing a lot and is reaching all his developmental milestones.
Frankline is happy her youngest son is doing so well, and she sees the positive effects of their new rainbow diet on the rest of the family. She says, "I dream that my children will stay healthy. I hope that Thorin may become a doctor or a leader in our community." Every parent wants their children to reach their full potential, and CRS is helping make sure they can do just that.
In the photo, during a during a community presentation on health and nutrition in the village of Miary Ankoronga in Miary commune, Toliara district in southern Madagascar, a CRS staff person uses a puppet to ask Labaladezy Rasoanandrasana, age 53 (in green shirt), a question about nutrition.
In some rural communities in Madagascar where rates of malnourished children are among the highest, households do not understand the gravity of poor nutrition. Catholic Relief Services has designed and introduced an innovative approach called Community-Led Total Nutrition (CLTN) as part of the Fararano Project so that entire communities – fathers, mothers, traditional authorities and youth – can contribute to improved nutrition. They all work together to ensure that all children have access to better food and nutrition.
They create social norms by convincing each other to follow through with weighing their children regularly and monitoring their children's growth. Regular weighing and monitoring allows community health workers to detect the possibility of malnutrition or other health concerns. Through creative awareness-raising activities, such as village skits and puppet show, community members convey messages about child nutrition. CRS' Fararano project then encourages participants to develop habits of cooking nutritious meals. Families are also encouraged to create vegetable gardens in their backyards so that nutritious food is always available. This project covers Eastern, Southeastern and Southwestern Madagascar and is funded by USAID Food for Peace.
REFLECT
What does Jesus' teaching to "visit those who are ill" mean to you?
What are rainbow foods? What rainbow foods do you and your family eat?