Administrative changes at J.E. Cosgriff school
Friday, Jul. 03, 2020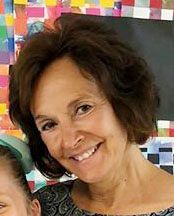 Courtesy photo
Photo 1 of 2
Two members of J.E. Cosgriff Memorial Catholic School's leadership team are leaving the school after many years of service. Principal Betsy Hunt's last day was June 30; Admissions Director Maggie Kearns is also moving on.
Hunt, who has been principal at the school for the last 14 years, also was the first principal of The Madeleine Choir School, which was founded in 1996. Her career spans more than 45 years in education at Utah Catholic and public schools and as a University of Utah advisor and an education consultant. She received a bachelor's degree in elementary education and a master's degree in special education from the University of Utah.
"There have been many changes over the past 14 years under my administration," she said. "I am very proud of a consistently high enrollment, the growth of strong Catholic values and traditions, and the opportunity to work alongside highly skilled faculty and staff who have offered a challenging and meaningful liberal arts education to each and every student over the years."
To recognize Hunt's legacy and her impact on the lives of hundreds of students and families, the J.E. Cosgriff Memorial Catholic School Board, in collaboration with the Home School Association, has established the Principal Betsy Hunt Legacy Scholarship. The inaugural scholarship will be awarded for the 2020-21 academic year.
"Mrs. Hunt led faculty and staff to create a school environment that embodied the spirit and values of Catholic education and service," the school board resolution said, in part. "Mrs. Hunt welcomed all children and families, regardless of need, as an integral part of the Cosgriff community. Mrs. Hunt envisioned innovative ways to deliver education to meet students' unique academic, emotional and social needs through summer and after-school programs, prekindergarten and toddler classes, and parent seminars to help families support students. Mrs. Hunt celebrated the success and growth of each child, and upheld the highest standards of academic rigor and excellence."
Maggie Kearns, the school's admissions director for the past 10 years, has been instrumental in redesigning and updating the entire admissions process, Hunt said.
"Maggie took the lead in the Catholic diocese to learn and implement Ren Web, FACTS and other registration online programming, a directive from Superintendent Mark Longe," Hunt continued. "She has been the brains and muscle behind online registration, tuition schedules, FACTS financial aid, accounting, school tours, advertising for the school and much more. Maggie has been an invaluable resource and leader in the J.E. Cosgriff School community and will be greatly missed by parents, faculty and administration."
Kearns is currently training her replacement, Heather Burns.
Lisa Romero, a former teacher at J.E. Cosgriff Memorial Catholic School and vice-principal at St. Vincent de Paul Parish School for the past three years, will take over as principal beginning this month.
Those who would like to contribute to the Principal Betsy Hunt Legacy Scholarship may visit the school's website https://cosgriff.org/, where links are provided.