Advent retreat helps faithful draw closer to God
Friday, Dec. 07, 2018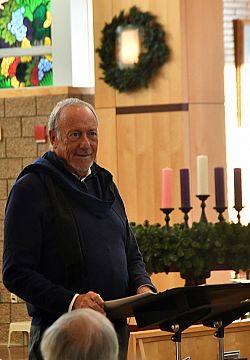 Intermountain Catholic
Photo 1 of 2
DRAPER — A planned and prepared Advent can mean a joyous Christmas — that's the message St. Vincent de Paul Parish Pastor Father John Norman shared with local Catholics at the diocesan Advent Retreat Dec. 1 at St. John the Baptist Catholic Church.
Fr. Norman presented the retreat in English; Fr. Omar Ontiveros, pastor of St. Ann Parish, gave the Spanish retreat.
Fr. Norman gave several suggestions to help participants on their Advent journey. The first was to make Advent scripture-focused this year. Individuals could choose a passage of scripture or a topic to study, engage in daily meditations or attend Mass as often as possible. Focusing on prayer and meditation through regular prayer, visiting their parish church, reading a faith-inspiring book or joining a prayer group could all enrich the Advent experience, he said.
They could also think about Jesus and his many titles to understand the many ways Jesus is present in their lives, he said.
Another area Fr. Norman suggested the faithful focus on is the lives of the saints, who are powerful examples. Fr. Norman also suggested those who seek a more spiritual Advent experience include others (living or dead) on their journey. They could also identify a personal need and address it.
"Don't wait another minute to heal a relationship or to mend something broken within you," he said.
Concentrating on acts of charity and kindness can deepen their spiritual preparedness, he said. He also suggested that those seeking a richer experience celebrate the traditional Christian Christmas season, from Christmas on Dec. 25 until Jan. 6, the Feast of the Epiphany. The faithful should teach their friends and neighbors the story of the Advent candle, the meaning of the epiphany and the true Christian way to celebrate it, he said.
After Fr. Norman's presentation, Bishop Oscar A. Solis celebrated a bilingual Mass with both the English-speaking and Spanish-speaking communities present at the retreat. Concelebrants were Fr. Rick Sherman, pastor of St. John the Baptist Parish; Fr. Rafael Murillo, administrator of Notre Dame of Lourdes Parish; Fr. Omar Ontiveros, pastor of Saint Ann Parish; Fr. Jose Barrera-Hernandez, pastor of St. Therese of the Child Jesus Parish; Fr. John Evans, pastor of St. Thomas More Parish; and Fr. Norman. Deacon Dale Dillon assisted.
Advent is "a critical season … which calls us to prepare our hearts to welcome Christ," Bishop Solis said in his homily. It "is not about chestnuts roasting in an open fire, it is not about Santa Claus or decorating our homes with Christmas ornaments. Rather, it is about the signs of Jesus Christ which are in the sun, moon and stars."
Advent "is a time of personal renewal, turning our life to God again, to restore our faith and to proclaim the good news of salvation," he said.
During this Advent season, "Let us not forget to prepare a peaceful place in our hearts that our Savior may come to dwell," he said.
While people came to the retreat for various reasons, they all seemed to share a desire to draw closer to God. Michael Williams, 14, a St. John the Baptist parishioner, said he attended the retreat to prepare for Conformation and to draw closer to God.
Jake Delgado, a St. Therese of the Child Jesus parishioner, brought his son Lukez, 8, who is preparing for his First Communion, with him to the retreat. It was the first retreat for both of them, he said. Delgado said he wanted to lead by example and to support his son's journey through the Catholic faith and to teach him a love for God.
Holy Cross Sister Patrice McGee said she hoped to get a few insights about Advent from the retreat, to find something that she wanted to work on. She was particularly touched by Fr. Norman's suggestion of walking her Advent journey with people who had died and to recognize that some people are grieving, she said.