Allan M. Lipman, Jr.
Friday, Jun. 07, 2019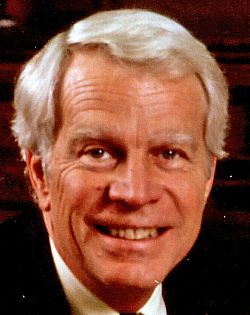 Courtesy photo
+ Enlarge
February 19, 1934 ~ May 25, 2019
Allan M. Lipman, Jr. – beloved husband, father, brother, grandfather, uncle and friend – passed away on May 25, 2019, at home with his wife, Kay, by his side. While he distinguished himself as an attorney, CEO, businessman and generous community leader, he cherished his roles as husband, father and grandfather (BopBop) most of all.
He was born in Salt Lake City on February 19, 1934, to Allan Milton and Marion Buller Lipman, and met his future wife, Kay Winston, on a blind date arranged by his sister Nancy Lipman Giles, with whom he grew up on "the Avenues" in Salt Lake. Their lifelong connection as devoted siblings and best friends would not be interrupted for long, as Nancy's passing preceded his own by just three weeks.
Allan graduated from East High School in 1952 and the University of Utah in 1956, where he was an active member in Pi Kappa Alpha fraternity. He then served in the U.S. Navy, achieving the rank of lieutenant, and attended Georgetown Law School, graduating in 1961. While still a law student, Allan served on the staff of Senator and future U.S. President John F. Kennedy.
Allan and Kay were married at Salt Lake City's Cathedral of the Madeleine on October 24, 1962, and soon moved to Denver, Colo., where he worked as an attorney for the National Labor Relations Board. They returned to Utah three years later when he became a labor attorney for Kennecott Copper. When he accepted the post as legal counsel in 1968 with the Amalgamated Sugar Company in Ogden, it launched his 32-year leadership career with the company. He rose quickly through the ranks and was named president and COO in 1978. He retired in 2009.
Allan served as a board member of Utah Business and Economic Development, St. Benedict's Foundation, the Catholic Foundation of Utah and St. Joseph Catholic High School, where he and Kay developed and chaired its annual SPREE fundraising events. Allan co-chaired the campaign for the restoration of Historic Fort Douglas on the University of Utah campus, and led the successful campaign to build Ogden's "Lantern House" shelter for the homeless.
As a member of the Utah Sports Authority Board and chair of the Weber County Olympic Committee, Allan helped Utah secure the 2002 Olympic Winter Games. He was inducted into the Ogden/Weber Chamber of Commerce Wall of Fame in 2000, and received a special tribute from the Weber County Commission in 2017 for service to his fellow citizens.
Allan was preceded in death by his sister Nancy. He is survived by his wife, Kay, and his children Theresa Lipman Kern (Michael), Allan M. Lipman III (Roberta), Tracy Lipman Eilers (Rich), David Lipman (Teresa), 15 grandchildren and one great-grandson. He is also survived by his brother-in-law Clark Giles and his cousin Jean Smith.
A funeral Mass was celebrated on Friday, May 31, 2019 at Holy Family Catholic Church. Interment at Mt. Olivet Cemetery.
In lieu of flowers, the family suggests a contribution in Allan's memory to one of the following: Marion B. Lipman Endowed Scholarship in Nursing, c/o Eden Bennett, U of U College of Nursing; 10 South 2000 East, SLC, UT 84112; Shriners Hospitals for Children, 1275 East Fairfax Road, SLC, UT 84103; or Lantern House, 269 West 33rd St., Ogden, UT 84401.