Archbishop John R. Quinn
Friday, Jun. 30, 2017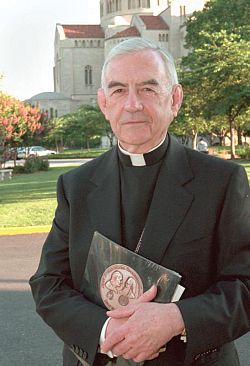 + Enlarge
March 28, 1929 - June 22, 2017
John Raphael Quinn was born in Riverside, Calif. on March 28, 1929, one of four children born to Elizabeth Constance [Carroll] and Ralph Joseph Quinn. As the youngest child by many years, John was raised largely by his eldest sister, Rita, and by his siblings, Graham and Constance, after their mother entered the workforce.
After completing high school, John entered the seminary for the Diocese of San Diego. He was sent to Rome to complete his studies, and received his degree from the Pontifical Gregorian University. Fr. Quinn was ordained to the priesthood in Rome for San Diego on July 19, 1953. He was initially assigned to serve at St. Francis de Sales Church in Riverside. In the years that followed, he taught systematic theology at Immaculate Heart of Mary Seminary in San Diego, and served as President of St. Francis College Seminary in San Diego. In 1964, he was appointed Provost of the University of San Diego College for Men.
On Oct. 21, 1967, at the age of 38, Fr. Quinn was appointed auxiliary bishop of San Diego. His episcopal ordination followed on Dec. 12, 1967. On Nov. 30, 1971, during the fall meeting of the bishops' conference in Washington DC, he learned from the Apostolic Nuncio of his appointment as the fifth bishop of the Diocese of Oklahoma City and Tulsa. On Dec. 13, 1972, that diocese was split, and the Archdiocese of Oklahoma City was created. Early in 1973, he became Archbishop of Oklahoma City, and in 1974, was asked by Pope Paul VI to participate in the 1974 World Synod of Bishops.
Archbishop Quinn returned to his roots in California with his installation as the sixth Archbishop of San Francisco, succeeding Archbishop Joseph McGucken on April 26, 1977. Within the year he was elected by his brother bishops to a three-year term as President of the National Conference of Catholic Bishops. On Jan. 27, 1981, Archbishop Quinn oversaw the establishment of the Diocese of San Jose, redefining again the boundaries of the Archdiocese of San Francisco. Over the decades that followed, the Archbishop participated in two additional synods in Rome. He served for five years as a consultant to the Congregation for the Clergy, and in 1983, he was appointed by Pope John Paul II as Pontifical Delegate for Religious Life in the United States. In San Francisco, he focused on social justice among many other responsibilities, quietly working with Catholic Charities to address the challenges faced by the underprivileged and underserved. Together with Catholic Charities, he reached out early with support for those with HIV and AIDS.
On Dec. 27, 1995, after leading the faithful of the Archdiocese of San Francisco for 18 years, Archbishop Quinn retired. He took up an appointment as visiting fellow at Oxford University's Campion Hall, and in 1996, he delivered the Campion Hall Centennial Lecture. His lecture was written in response to Pope John Paul II's 1995 encyclical on ecumenism, Ut Unum Sint ["That They May Be One"], and led to the 1999 publication of Archbishop Quinn's first book, The Reform of the Papacy: The Costly Call to Christian Unity, winner of a Catholic Press Award. In 2000 and 2001, the archbishop was a member of the faculty of the University of San Diego, where he held the John R. Portman Chair of Roman Catholic Theology. He later taught at Santa Clara University and at the University of San Francisco, and was a member of the Catholic Theological Society of America. His second book, Ever Ancient, Ever New: New Structure of the Communion in the Church was published in 2012. Archbishop Quinn contributed to many publications, including the Jesuit magazine America, to which he began contributing in 1968.
In his later years, Archbishop Quinn lived in retirement in Menlo Park, traveling frequently to lead retreats and give talks until this past November when he fell ill. Just before his illness, he had completed a book on the First Vatican Council of 1870 that will be published posthumously.
Archbishop Quinn was predeceased by his siblings and by his niece Mary Elizabeth ("Pat" Bash). He is survived by his sister Rita Bash's children: Bill (Julie), Ralph, Stephen Roger, and John (Cheryl), all of Riverside; and is survived by his sister Constance DeJarnette's children: Dennis (Carolyn), Michael (Ellen), Carroll Evers, Gregory (Adrienne), Judy, and Leslie (Jeff) Astel, of California, Washington and Oregon.
A vigil service will be held on Sunday, July 9 at 7 p.m. at the Cathedral of Saint Mary of the Assumption in San Francisco. A Mass of Christian Burial will be celebrated on Monday, July 10, 2017, at 10 a.m. at the Cathedral of Saint Mary of the Assumption, San Francisco. Interment: Holy Cross Catholic Cemetery, Colma.