Archbishop Wester: 'In the face of the migrant, we see the face of Christ'
Friday, Aug. 02, 2019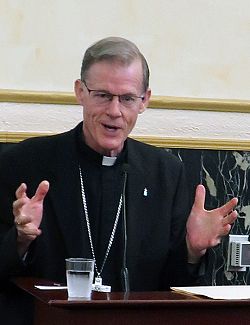 IC photo/Linda Petersen
+ Enlarge
SALT LAKE CITY — While countries have the right to secure their borders, they do not have a right to do so at the expense of human rights and human dignity, Archbishop John C. Wester of Santa Fe said in his keynote address at the Social Action Summer Institute conference, held at the University of Utah July 25-28.
The Church must lead the way in reaching out to refugees seeking a safe haven, and welcome and support them, he said.
"As Catholics committed to the teachings of Christ, who himself was a refugee fleeing possible death at the hands of Herod, we must continue to engage in this debate and offer an alternate vision for how we address this challenge which impacts our fellow human beings," he said. "I am personally proud of our Catholic response and that of so many other Christian and non-Christian religious and people of good will."
Although the Church continues to deal with the impact of the sexual abuse crisis and other challenges, Catholics must still be actively engaged in ministering to their brothers and sisters, he said.
"In the midst of this crisis, it does not mean the Church should shrink from our duty in fighting social injustice, which these days is very prevalent in our country and our world," he said.
"Migrants, refugees, asylum seekers, people on the move, forced migrants — these are all the world's homeless in search of a home where they can be protected and survive," he said.
Archbishop Wester recounted stories of individual migrants and their families and the traumatic experiences they have endured.
"They're really no different than any of us except they're experiencing extraordinary suffering," he said.
He went on to share the work that has been done in his diocese to help refugees, a work that was a response to a plea from Bishop Mark Seitz of El Paso, Texas, whose community had been overwhelmed by the huge numbers of refugees coming across the border.
Since January, Catholics in the community of Albuquerque have joined with many of their neighbors to provide shelter and support to more than 4,500 refugees who have been sent there from El Paso.
In recent weeks, the flow of asylum-seekers has dried up because of the implementation of the federal government's Remain in Mexico program and other U.S. policies at the border. Although the communities' work in providing basic services has been put on hold, there is an even greater need for Catholics throughout the United States to mobilize to push for systemic change, Archbishop Wester said.
"We have to keep fighting to change the narrative from attacking desperate migrants to reforming the system which denies them their rights," he said.
For American Catholics, the way is clear, the archbishop said: The Church in the U.S. must work to bring about changes, including reforming the immigration system so there are more legal avenues for skilled workers, bringing undocumented workers out of the shadows and putting more resources, especially legal resources, into the asylum system. Catholics must also urge their government leaders to work with the United Nations and other nations to protect migrants around the world, to effect change in their home countries and to address the root causes that force people to migrate, he said.
"We're at a pivotal moment in our country's history where we either maintain our values as a safe haven for those who are oppressed, or we become a different country which places an emphasis on nationalism over the global common good," he said.
He acknowledged the fight would not be easy and that compromises would need to be made along the way, but said that the Church in the U.S., with a presence in the communities that receive, transition and send these migrants, has a unique position in being able to help.
"We are involved in this debate because we are called to be by our faith," he said. "Our Lord Jesus Christ calls us to welcome the stranger. In the face of the migrant, we see the face of Christ."