Art Grant named Utah Knight of the Year
Friday, Jun. 15, 2018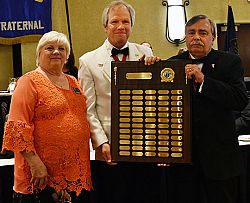 IC photo/Marie Mischel
+ Enlarge
SALT LAKE CITY — Art Grant, a Knight of Columbus from St. Vincent de Paul Council 13297, has been named 2017-2018 Knight of the Year.
A humble and self-depreciating man, Grant said he was surprised by the award.
"I think it's an honor; there's 3,500 other men that could have gotten it," he said. "I was really taken aback, and then when my kids showed up [at the awards banquet] I went, 'Whoa.'"
"He was so tickled and so pleased that he would get this award that he was holding back the tears" at the May 5 awards ceremony, said Grant's wife, Pam. "I don't know how I got so lucky almost 49 years ago to marry this guy. He is one of the world's special men."
The couple met while they were both students at Granite High School. They married in 1969 and have three children: Arthur Jr. (called Tony), Jenifer and Troy; 10 grandchildren and one great-grandchild.
Art Grant is a cradle Catholic, but when they met Pam was a member of The Church of Jesus Christ of Latter-day Saints. After they married she attended Mass with her husband every week, but she did not convert to Catholicism until 1988.
"He left me to it; it was all on my own," Pam Grant said. "It was the way it should be done; I wasn't pushed."
Through the years, Art Grant has been very active in Scouting and has received the Silver Beaver distinguished service award. He and his wife were members of the Diocesan Catholic Committee on Scouting for 20 years. Art Grant attended Scout camp for 17 years straight and then took one summer off while recovering from pneumonia before finishing up another three years, long after his own sons had left the program, Pam Grant said.
He also received the national President's Volunteer Service Award.
At St. Vincent de Paul Parish he serves as an extraordinary minister of Holy Communion, lector and usher, along with facilitating the parish men's Bible study group. Each week he helps his wife coordinate the 5 p.m. Sunday evening Mass. He also chairs the monthly parish and council breakfasts and runs the parish coffee and donuts after-Mass socials and organizes the parish and council's quarterly blood drives.
"I particularly love giving the parish a chance to mingle and get to know each other better," he said."
In addition, he organizes and leads all of the Knights of Columbus First Degree exemplifications held by his Council, helps with formation and Knighthood degrees as needed, has served at many patriotic degrees, and runs the Knights of Columbus Honest Abe shop, which offers Knight-related clothing and materials. He also helps to promote, organize and conduct ACTS retreats.
Grant believes wholeheartedly in the mission of the Knights and the fellowship the organization provides.
"It gives us men a chance to be with other Catholic men and learn from other Catholic men," he said. "The service they do is amazing; we all love doing that. The brotherhood is really close and all work together well."
Grant, 67, works fulltime at an Intermountain Healthcare print design facility. He previously worked for his wife's parents and at another print shop. His supervisor at IHC has told him he cannot retire until she does because she does not want to run the place without him there, Pam Grant said.
If all goes according to plan, that should be in about three years Grant said. However, he has no plans to "retire" from the Knights anytime soon. He will continue to serve as long as he is healthy "and can still help the guys do the work," he said.
"It was quite an honor for my council to do this," Grant said of the award. "They think I'm Superman sometimes, but I'm just an old guy that likes to work. I'm proud to be a Knight in Utah."
Grant deserved to have his many contributions to his parish, council and community recognized by the award, Utah Knights of Columbus State Deputy Andy Airriess said.
"Art Grant does a ton of work inside his parish – he's amazing – and a ton of work for his council," Airriess said. "I don't know how he sleeps any more than four hours a night."
Before announcing the award at the banquet, Airriess repeated some comments other Knights have said of Grant, including ""I have never heard him swear, boast, or be unkind towards others," "He speaks of others with charity, and focuses on the positive outcome in any situation," and "He makes every Knight a better Knight through his actions, by his encouragement, and with his unconditional love towards his fellow human beings."