Barbara Stinson Lee
Friday, Jan. 10, 2020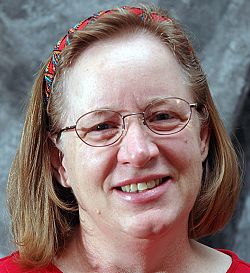 IC Archive photo
+ Enlarge
April 19, 1951 ~ January 2, 2020
Barbara Stinson Lee, writer, editor, advocate, supporter and friend to many during her 68-year lifetime, died January 2, 2020 after a brief illness.
Born to Orville R. and Elizabeth (Pat) Stinson on April 19, 1951 in Boise, Idaho, Barbara and family settled in Phoenix, Arizona, where she attended St. Thomas the Apostle Parish and graduated from Camelback High School.
Barbara was an active member of the Phoenix Little Theatre, where she met her lifetime love and husband of 45 years, Jack Lee. They married and moved to Logan, Utah. While there, she published her first short story, "The Dream Glass," in the Herald Journal.
Barbara and Jack moved to Salt Lake City, and she embarked on a 27-year vocation as writer and editor of the Intermountain Catholic newspaper. Throughout her tenure she embraced opportunities to share everyday stories. She enjoyed highlighting the achievements of young people and traveled extensively to report on poverty, justice and peace. In 2006 she published Pilgrimage, a Journey through the Holy Land with the Words of Archbishop George Niederauer. In 2006 the Utah Press Association presented her with its highest individual recognition, the Master Editor Publisher Award.
Dogs, cats, the Utah Shakespeare Festival, legendary enchilada parties and the heaven that welcomed her round out Barbara's great passions. She faced the final weeks of her life with courage and grace, consoling her loved ones with an enthusiastic "Just look where I am going!" Hours before her death she quietly said, "I am on my way." Yes, our dear Barbara, you have been on your way since the day you arrived.
Barbara is reunited in death with her parents and her sister Patsy Moss. She is survived by her husband, Jack; her brother, Frank Stinson of Tempe, Arizona; her sisters Elizabeth Stinson of Vancouver, Washington; Joanie Myszkowski (Joe) of Stoughton, Wisconsin; and Kelly Stinson Mullens (Jeff) of Boise, Idaho; and beloved cousins, nieces, nephews and friends throughout the world.
A funeral Mass was celebrated January 8 at the Cathedral of the Madeleine. Interment followed at Mt. Calvary Catholic Cemetery.
Interested parties are invited to memorialize Barbara by donating a favorite book to Our Lady of Lourdes School library and/or making a donation to the Cathedral of the Madeleine Good Samaritan Project.