Bernard Paul Chavez
Friday, Jan. 11, 2019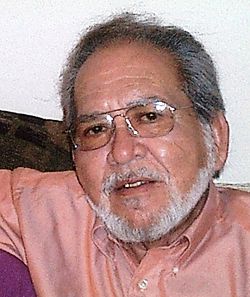 Courtesy photo
+ Enlarge
August 30, 1940 ~ January 1, 2019
Paul Chavez went to his heavenly home on January 1, 2019 after a brave battle with cancer. He was always a man of great faith and a follower of Jesus Christ. He was a devoted Catholic, parent, grandfather and friend. He was a passionate wood carver, jewelry maker, gardener, and had many more talents. He was an active member of Our Lady of Lourdes Parish (Magna). He joined his beloved wife Donna, parents Ray and Eloida (Trujillo) Chavez, and brother Edward.
Paul was born in Dulce, New Mexico on August 30, 1940, and grew up in Albuquerque, where the family moved after World War II. He attended schools in Alamagordo and Albuquerque, graduating from Valley High School before being drafted into the U.S. Army. He served two tours of duty that included assignment to the Strategic Headquarters of Allied Powers in Europe (SHAPE) in Paris, France. After his military service, he returned to Aztec, New Mexico, where the family had moved when his dad was hired as a heavy equipment mechanic at the Navajo Dam. During this time, Paul met Donna Mondragon, whom he married in 1966 in Magna. They moved to Albuquerque, and in 1970 they adopted their precious angel, Tamara, fulfilling their dreams of a family. Returning to Magna, Paul worked at the U.S. Federal Office Building in Salt Lake City until his retirement.
Paul is survived by his daughter and son-in-law (Tamara and Chance Elsbury), grandsons Travis and Curtis, and great-granddaughters Arriana Rose and Presley Raeann, as well as his sisters Loyola Chavez, Bette Holcomb, Cordelia Candelaria Beveridge, Cynthia Kelly, Tesamae Stone, and brother Marcus, aunts Angie Trujillo, Rosina and Uncle Jim Intravia, and other extended family members, including many devoted nieces and nephews.
A funeral Mass was celebrated January 7 at Our Lady of Lourdes Catholic Church in Magna. Committal was at Utah Veterans Memorial Park. Online condolences may be made at www.peelfuneralhome.com.
In lieu of flowers, Paul requested donations be made to Our Lady of Lourdes Building Fund, his beloved church.
A special thanks to Dr. Ray Morris and staff and the staff at Utah Cancer Specialist and Harmony Home Health & Hospice for taking such good care of my father during his final journey of life.