Bishop of Ukrainian Eparchy visits Utah congregation
Friday, Jan. 11, 2019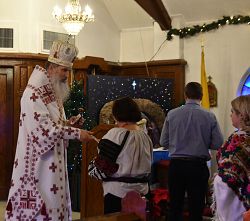 IC photo/Marie Mischel
+ Enlarge
SALT LAKE CITY — His Excellency Venedykt Aleksiychuk, Bishop of the Saint Nicholas Ukrainian Eparchy of Chicago, visited his congregation in Utah on Jan. 6-7. He celebrated the Pontifical Divine Liturgy and offered the Sacrament of Reconciliation to the congregation, which gathers to worship at St. Jude Maronite Catholic Church in Murray when a visiting Ukrainian Catholic priest is available.
Bishop Aleksiychuk's eparchy covers the entire United States west of Ohio; it includes 46 parishes and mission stations. Of these, Utah's congregation of about 25 regular worshippers is probably the smallest community, said Oleh Kernytskyy, who organized the visit.
Originally, Kernytskyy had requested a priest to visit Utah for the Ukrainian Catholic Christmas, which was celebrated on Jan. 7 because they follow the Julian calendar. He was surprised when Bishop Aleksiychuk himself agreed to come.
"It's kind of a special occasion because usually the bishop comes once every ten years, once every five years. Not every year. So we are really blessed," he said.
The liturgy celebrated on Jan. 6 was the traditional Christmas Eve liturgy.
Prior to that service, it had been at least two years since the Ukrainian Catholics have had a priest to celebrate their liturgy, said Oryslava Sorensen, adding that it was "incredible" to have the bishop celebrate the Christmas liturgy.
Sorensen said she appreciated being able to share the experience with her young children. "We need to do it more often," she said.
The message Kernytskyy drew from the bishop's homily was that "we need to spend our time and talent wisely," he said.