Bishop Solis' Advent Message
Friday, Nov. 25, 2022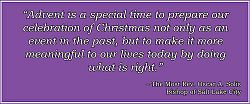 Intermountain Catholic
+ Enlarge
This coming weekend is the first Sunday of Advent. It signals the start of a new liturgical year for the Catholic Church. The very word advent, which means coming or arrival, is derived from the Latin word "advenire," which means "to come to" or "to arrive." The next four weeks will be an opportunity to pause in our busy lives and pray, "Maranatha! Come, Lord Jesus," in preparation for the coming of Christ as lord of heaven and earth at the end of time, and joyfully celebrate the arrival of the Prince of Peace on Christmas, when Christ, the Son of God, took flesh and dwelt among us.
Advent preparation is associated with some key phrases: be vigilant, stay awake, get ready, make straight the path, to name a few. These words help us set the proper disposition of our minds and hearts in order to stay focused on the coming of Christ in the future, and his abiding presence in our daily life. It makes sense to take time to shift our attention to Christ these next few weeks, as our experiences tell us that oftentimes we take this message lightly, find ourselves preoccupied with other things and ill-prepared to recognize our Lord in our life.
Advent is a special time to prepare our celebration of Christmas not only as an event in the past, but to make it more meaningful to our lives today by doing what is right. The penitential character of Advent is important to prepare the path for Christ to dwell in our heart. We know very well how many times we have severed our relationship with God. Penance and repentance help us recognize our personal weaknesses, turn away from sin and seek reconciliation with him.
Furthermore, the Advent candles lighted in our churches during Mass these next four weeks remind us of the presence of God and his gifts of hope, peace and love, as well as the need for us to share with one another. Pope Francis said, "Advent invites us to a commitment to vigilance, looking beyond ourselves, expanding our mind and heart in order to open ourselves to the needs of our brothers and sisters, and to the desire for a new world." Charity makes God present in the lives of those in need and brings the true meaning of Christmas.
Whether we are ready or not, Advent is here. It is the start of a new Church year and a beginning of new possibilities with God. Let us open our heart and pray "Come, Lord Jesus." It is the foundation of our faith and hope that Christ, the Emmanuel, is always with us, now and forever.
To help prepare for Christmas, I urge you to take a few minutes each day to learn more about God's presence in the Holy Eucharist and in his Word. I also encourage you to attend the diocesan Advent retreat on Saturday, Dec. 3 at St. John the Baptist Catholic Church in Draper. Fr. Tristan Dillon will present the spiritual talks in English, and Fr. Dominic Sternhagen in Spanish.
May the Lord bless us this Advent season as we prepare our hearts to welcome Christ our Lord!