Bishop Solis asks for prayers during 'ad limina' visit to Rome, pilgrimage
Friday, Feb. 14, 2020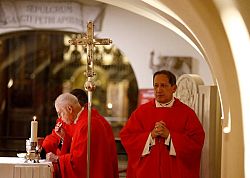 CNS photo/Paul Haring
Photo 1 of 2
Dear Brothers and Sisters in Christ!
Greetings of Christ's peace and love! As I write this, I am flying to Rome to join the other bishops of Region XIII (New Mexico) for our ad limina apostolorum (to the threshold of the Apostles). Every five years, bishops from all over the world go on a pilgrimage to the Eternal City to have our official visit with and report to the Holy Father about local Churches.
The scheduled visit of the Bishops of Region XIII is on Feb. 10. Our day begins with an early concelebrated Mass at the Tomb of St. Peter, designated by Christ to be His Vicar on earth. From there, we all expect to meet with the Holy Father for about two hours, as the other bishops who went before told us.
The other part of our trip is to visit other key Vatican offices. Bishops are divided into groups so we can visit as many offices as possible. That Monday afternoon, we will go to the Congregation for the Doctrine of the Faith to ask questions as well as to share the faith experiences, issues and challenges we face in our local Church. The following days are intended for the other dicasteries or offices, such as the Pontifical Commission on Protection of Minors; the Congregation for Bishops; Congregation for Consecrated Life; Education; Congregation for Laity, Family and Life, to name a few.
Another exciting schedule of our pilgrimage is to be able to celebrate the Holy Mass at the four Major Basilicas in Rome: St. Peter's, St. Mary Major, John Lateran and St. Paul outside the Walls.
Please know that I will bring with me the Catholic faith and love of the people of God in Utah. When my turn comes, I will express to Pope Francis on your behalf, the warm greetings from the Beehive State and assure him of our obedience, affection and prayerful support. In our celebrations of the daily Mass, your intentions will be joined to mine in the spirit of our unity and solidarity as a faith community. However, may I ask you to kindly include me also in your prayers as well as the other bishops and the two groups of pilgrims from our diocese who will joining be us.
Thank you, and may God bless us all!
The Most Rev. Oscar A. Solis
Bishop of Salt Lake City