Bishop Solis' homily at the Mass of Installation
Friday, Mar. 10, 2017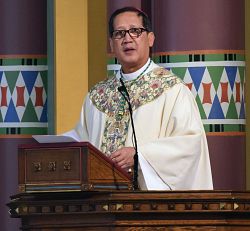 IC photo/Marie Mischel
+ Enlarge
The following is an edited text of the homily given by Bishop Oscar A. Solis on March 7, 2017, in the Cathedral of the Madeleine, Diocese of Salt Lake City.
Greeting
Good afternoon! The Diocese of Salt Lake City had been anxiously waiting for their new bishop. God has answered your prayers – this is the day the Lord has made, let us give thanks, let us rejoice and be glad! Our loving God has blessed this diocese with dedicated clergy, religious men and women, pastoral staff and many other Church ministers throughout the diocese. After 21 long months, this local Church stayed alive, faithful and strong to her mission of evangelization because of your strong faith, love for God and for your Church. Please allow me to thank you and commend you for your dedication and sacrifices.
Thank you for the honor of your presence as we gather to celebrate this Mass of thanksgiving in this beautiful and historic Cathedral of the Madeleine. I am truly delighted to welcome all of you, especially the Apostolic Nuncio to the United States, Archbishop Christophe Pierre; Archbishop Bernardito Auza, the permanent observer of the Vatican to the United Nations; Metropolitan Archbishops Salvatore Cordileone, José Gomez and José Palma, all the way from Cebu, Philippines; my brother bishops and priests, deacons and their wives; our women and men in the religious and consecrated life; my dear family, who came all the way from the Philippines and other parts of the country; the representatives of The Church of Jesus Christ of Latter-day Saints and my brother fellow ministers from the diverse interfaith community here in Utah; distinguished government and civic leaders and guests – especially the Honorable Salvador Medialdea, the Executive Secretary of the President of the Philippines; my beloved people of God of the Diocese of Salt Lake City and the entire state of Utah.
I would like to express my gratitude to God for his tremendous blessings and to our Holy Father, Pope Francis for his confidence in naming me Ordinary of this local Church in Utah. In the past few weeks since I was appointed the 10th Bishop of Salt Lake City, I have been learning about the rich history of this diocese. We are here because of the tremendous work and ministry of many missionaries, clergy and countless women and men religious who dedicated themselves to this local Church, and because of the people's faith in God and their love for this Church. This beautiful Cathedral of the Madeleine, where we are right now, stands as a living testament to the many sacrifices and generosity of the Catholic community working together with our brothers and sisters from other churches and religious groups, and the people of the state of Utah.
Our Mission
We are gathered here today on the Feast of Saints Perpetua and Felicity. These early Christian martyrs courageously and joyfully gave up their lives in defense of their faith in Christ. Their martyrdom is a great reminder that we, too, are called to be witnesses of our faith in God in the midst of the many challenges we face. In our world today, and even in our nation, the right to religious freedom is under attack. We are ridiculed because we proclaim the truth about the sanctity of life from conception to natural death; because we call for people in all stages of life to be given protection, dignity and respect as sons and daughters of God – whether they are in their mother's womb, young or old, rich or poor, healthy or in ill health, immigrant or refugee or a resident citizen. We are all God's children. We recognize that it is imperative for us to provide everyone what is necessary to help each other live and grow in order to fulfill their God-given potential. This is important; as the Scripture tells us, through hospitality to strangers some have unknowingly entertained angels (Hebrews 13:2).
As we carry our mission then, what a beautiful moment to gather around this altar of sacrifice as a community, representing peoples of every race, ethnicity, cultural background, social status, income level or even sexual orientation. Looking out at you, I see a beautiful representation of the fabric of our society, and we reflect on the rich history of the Diocese of Salt Lake City, which is a mission church established on a culture of encounter and dialog.
We, here today, pursue that tradition of creating a shared history, acknowledging our differences but setting them aside to work together to build a community in which we are all welcome, in which we all work toward the common good.
Episcopal Ministry
I am truly humbled that I have been appointed to be part of this local Church's beautiful missionary journey and to be a recipient of the great legacy of my predecessors – the first bishop, Bishop Scanlan, and in the past three decades – Bishops William Weigand, George Niederauer, John Wester. As I have told my brother bishops, it is quite frightening to follow these "big dogs." And as I look up to them, I could not help but think of myself as a little puppy. And the sad part about it, I said, is that I am a little puppy and a mixed breed. These men, my predecessors, were all dedicated leaders of our faith, who carried out their episcopal ministry with great zeal and enthusiasm, and who worked collaboratively with leaders of other faith denominations.
We heard in the Gospel how Christ instructed Peter to feed and tend his flock. This reminds me of my sacred responsibility to nourish, to nurture and to feed the faith of God's people in Utah.
Like my good predecessors, I will have a ministry that brings the Church to the people, centered on encounter and dialogue. I recognize that the Church in Utah – indeed, the Church in the United States – is a diverse and an immigrant Church. We come from different places. We speak different languages. We have different cultural backgrounds. Each of us has a different story and a different history, and now we call this beautiful state of Utah our home. My dear friends, it is not a coincidence that our stories are meeting here, in the midst of the Wasatch Mountains and the red rock country of Utah. I believe that it is God's providence that brought us together, in this location, at this particular time and for a special reason.
We, from our diverse cultures and backgrounds, are called here and now to proclaim the joy of the Gospel, and the hope that it awakens in our hearts a call to live in unity and solidarity as one God's family, as brothers and sisters, as a community of faith.
However, this thought somehow makes me nervous. The words that we heard from the Prophet Jeremiah in the first reading express my own fear. I think I felt the same, like him. However, the only difference is, unlike Jeremiah, I am no longer young; I feel like I'm an old dude.
So, as your bishop, I share in the threefold functions of Christ: to teach, to govern and to sanctify. Working to build an inclusive community of faith in a rich multi-cultural setting like Utah is both a challenge and an opportunity. The attitude and perspective with which we approach our reality colors the outcome of our ministry. So, I pray to God to give me the gift of wisdom to carry out these sacred duties. I also invoke his favor for the people of Utah, so together we may have the grace to face the challenge of engaging in a transformative dialogue, to create an encounter that leads us to the sacred and divine, to the One who is the source of life. May we be able to share our mission that joyfully proclaims the Good News as friends, as brothers and sisters, and as disciples of Christ.
In spite of these challenges, I find myself truly blessed, as you all are, because we inherit the awesome beauty of this state and a diocese rich in tradition and history. I think of the sense of wonder that the first missionaries must have felt upon seeing the purple mountains' majesty, the wide expanse of the Great Salt Lake, the alien beauty of the hoodoos, the graceful stone arches – all this splendor of nature, and amid all this, the rich cultural expressions of the people they met through the years. This encounter and dialogue allowed the faith to grow and to bear fruit. All of this contributed to what and who we are today. And so I honor this rich history, the richness of the cultures and traditions of all who now live in this great diocese, and the splendor of nature in Utah that only a loving God can create. My dear friends, I stand here in awe and humility as I begin to weave into the fabric of this diocese the strands of my own journey, to join these threads with the beautiful ones created by my predecessors and with those of the people of faith who have roamed this land for centuries.
On a very personal note, there is a quote from Exodus 3:5 that inspired my own missionary journey. When Moses encountered God through the burning bush, God commanded him, "Take off your sandals, for the place where you are standing is holy ground." I believe I am standing here on a holy ground. I humbly come before you, trusting that our encounter and dialog may lead us to a deeper understanding of the sacred, of the holy God of our ancestors in faith. I pray that a truly transformative dialog may lead us to respond to the challenges of building bridges to form one community in the midst of diversity.
Culture of Dialog
My dear brothers and sisters, as a faith community our task continues to live up to the challenge of building and strengthening our inclusive community of faith. I do not claim to have all the answers. I know you waited so long and have put too much high expectations on me. Please may I remind you of my name: It is Oscar Solis, not Jesus Christ. I am not a messiah, but just a humble servant. So, I invite you and encourage you to work with me to create this culture of dialog and encounter our Holy Father Pope Francis exhorts us. But not just any kind of dialog, but a transformative one that leads us, together, to God.
With Saint Mary Magdalene, whose name we honor in the hallowed walls of this cathedral, let us proclaim with joy in our hearts the hope that our encounter with Jesus brings. Paraphrasing the Aparecida document on mission, may I quote: "Let us confirm, renew and revitalize the freshness of the Gospel as it has taken root in our history, and of doing so on the basis of a personal and communitarian encounter with Jesus Christ which produces disciples and missionaries." We are called to be missionaries – missionaries of mercy, of the love and compassion of God to all the world.
And we pray to God: "Your will be done." Amen.