Bishop Solis honors Scouts at dinner
Friday, Apr. 05, 2019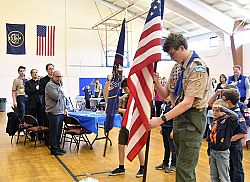 Intermountain Catholic
Photo 1 of 2
BOUNTIFUL — Scouting molds the character of youth, "and this is what our world – our community and our nation – needs, is people of good character, and you are on the right track," Bishop Oscar A. Solis told the Boy and Girl Scouts gathered for the annual Bishop's Dinner for Scouting and Clergy on March 31 at St. Olaf Parish.
In addition to the Scouts and their parents and troop leaders, at the dinner were Fr. Joseph Delka, parochial vicar of the Cathedral of the Madeleine; Deacon Scott Dodge, who ministers at St. Olaf Parish; Lisa Harding-Reynolds, CEO of Girl Scouts of Utah; Callie Birdsall-Chambers, vice-president of marketing and communications for Girl Scouts of Utah; and Perry Frandsen, council commissioner for the Great Salt Lake Council of the Boy Scouts of America.
At the meeting, Nancy Reading, chairperson for the Diocese of Salt Lake City Committee on Scouting, said they had once again earned the Quality Diocese Award from the National Catholic Committee on Scouting.
In re-appointing Reading the diocesan committee chairperson, Bishop Solis said she has shown tremendous commitment to the program for 20 years. Reading has submitted to him reports detailing her work, but "when I look at those boys and girls in the Scouting – you have done a splendid job," the bishop said.
Reading said she doesn't deserve all the credit for her work because she doesn't do it alone.
"I have the most amazing committee in the whole world," she said, adding, "I couldn't do this without the help I get from everyone."
At the dinner, Fr. Joseph Delka, parochial vicar of the Cathedral of the Madeleine, gave the keynote address. In introducing him, Reading said that Scouting is a form of youth ministry that offers many different levels of adventure and service and opportunities for growth.
Echoing Reading's comment, Fr. Delka said that Scouting, along with the other youth ministries in the diocese, all have the same goal: to introduce youth to Jesus Christ and help them grow in their faith.
The religious emblems that Scouts can earn help the boys and girl embrace their faith, "so I see the Scouting opportunities as a great opportunity for our young men and women to learn about our faith," he said.
Bishop Solis, in his closing remarks, thanked the parents for encouraging their children in their Scouting activities. He also urged the Scouts to remember that when they do good works as Christians who love God, they are doing charity, which makes their good work more noble, because "there is a spiritual component in everything you do for others, especially those who are in need."