Bishop Solis reflects on pope's new encyclical
Friday, Oct. 16, 2020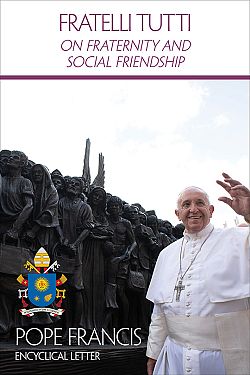 Catholic News Services photo
Photo 1 of 2
Pope Francis, with his latest encyclical, "Fratelli Tutti," has issued again an appeal to the Church and to the world that touches my heart. The new document is about fraternity and social friendship, a very relevant message to our divided world. The week since it was published has not been enough time for me to give it the deep reflection it deserves. However, I would like to share with you my initial reaction to Pope Francis' message.
The encyclical "Fratelli Tutti" explores the universal scope of fraternal love to every man and woman against a culture of ignorance and indifference toward others. The first chapter, titled "Dark Clouds Over a Closed World," addresses the shattered dreams of those who had hoped for reconciliation and rapprochement in Europe, Latin America, and other areas of the world, but who now are seeing that "ancient conflicts thought long buried are breaking out anew, while instances of a myopic, extremist, resentful and aggressive nationalism are on the rise," Pope Francis writes. The chapter also highlights the pain and suffering of the world plagued by violence and extreme materialism dominated by economic interests.
The Holy Father notes that today's culture has no shared vision of a common future, and fails to see every person – especially those who are poor and disabled – as someone to be respected and cared for, who needs our love and attention. The COVID-19 pandemic exposed our insecurities and inability to work together in spite of our digital hyper-connectedness. However, it "momentarily revived the sense that we are a global community, all in the same boat, where one person's problems are the problems of all," the pope writes, adding that there are many lessons to learn to improve ourselves and the existing system and regulations.
"Once more we realized that no one is saved alone; we can only be saved together," Pope Francis writes, and he holds out hope that once this crisis passes, "we will think no longer in terms of 'them' and 'those,' but only 'us.'"
In light of what is happening in the world, the Holy Father reminds us of the essential aspect of our humanity, that the life we share comes from God and we become sisters and brothers in Christ with equal human dignity, members of one single family, and children of the same earth, our common home.
"Fratelli Tutti" clarifies that universal fraternity and social friendship must be lived and practiced by everyone. Pope Francis referred to the "Document on Human Fraternity for World Peace and Living Together," which he signed in 2019 in Abu Dhabi, reiterating the absolute dignity of the human person that must be over and above the law, economic and political preference so that the poor, migrants and refugees will be treated and welcome not as strangers but friends and brethren, with reference to the teaching of the parable of the Good Samaritan as a great model of fraternal relationship.
The encyclical presents Pope Francis' concern for humanity, a new vision and his hopes of a rebirth of a universal fraternity and social friendship. He offers a different worldview of love and community against the prevailing culture of indifference, isolation and division. He calls us to break down these barriers so that instead of "we and they," we become "one," Good Samaritan for one another.
This call for a renewed world focus and lifestyle is one I offered in the pastoral letter I wrote in 2017 when I first came here to Utah, "A Springtime of the New Evangelization." As your new bishop, I asked that we "leave our comfort zones, be missionaries reaching out to all our brothers in order to establish friendship with everyone, even with those who are on the margins of society and in the peripheries, so that no one feels the bitterness of isolation and abandonment."
Three years have passed since I wrote that letter, and before the pandemic struck the parishes in our diocese were working toward implementing our Pastoral Plan to fulfill the mission of Christ, as our baptism calls us to do. Now, Pope Francis' message is a reminder that despite all the ways in which the world fails to heed the call of Christ, "God continues to sow abundant seeds of goodness in our human family." He invites "everyone to renewed hope," because hope speaks of things that "lift our spirit to lofty realities like truth, goodness and beauty, justice and love." The world needs not only that message of hope but our love in concrete action so that we may live together as one faith family, brothers and sisters to everyone.