Bishop Solis's statement on the Jan. 6 incident in the U.S. Capitol
Friday, Jan. 15, 2021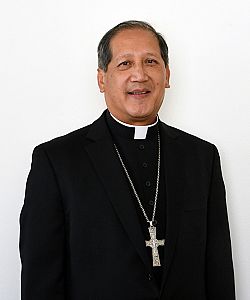 Intermountain Catholic
+ Enlarge
On Jan. 6, the Most Rev. Oscar A. Solis, Bishop of Salt Lake City, released the following statement about the events that occurred that day.
I watched the violence perpetrated by some of my fellow Americans in our nation and state capitols with a heavy heart. Efforts to intimidate, threaten, and physically harm our democratic institutions and public servants based on the results of a free and fair election have no place in our country.
I urge all people of good will to join me in praying for peace in our nation; for a commitment across our country to the common good and recognition of our shared values; and that all elected officials will serve with integrity, humility and deep respect in their roles as public servants. Hateful and divisive rhetoric must stop as we instead join our hearts and voices in prayer for national healing and unity.
With Archbishop José H. Gomez, president of the U.S. Conference of Catholic Bishops, I too "entrust all of us to the heart of the Blessed Virgin Mary. May she guide us in the ways of peace, and obtain for us wisdom and the grace of a true patriotism and love of country."