Bishops restructure USCCB, trim budget, cut assessment
Friday, Nov. 24, 2006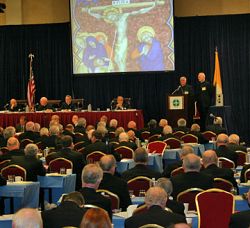 Intermountain Catholic
+ Enlarge
BALTIMORE – The stones of the newly-renovated Basilica of the National Shrine of the Assumption of the Blessed Virgin Mary in Baltimore, rededicated just the day before, spoke to members of the United States Conference of Catholic Bishops (USCCB) today as they undertook, during their annual fall meeting, the restructuring of the conference.
Like so many voters on other issues this month, the bishops had to get used to electronic voting machines, though theirs were wireless. After a few test ballots, they voted in new committee chairmen, even though the restructuring plan might eliminate the need for some of those committees.
The reorganization of the USCCB, slated to take effect in 2008, is aimed at more collaborative working relationships between offices and ministries, said Archbishop Bishop Michael Sheehan of Santa Fe, N.M. The restructuring had been recommended to the bishops' June meeting by the Committee on Priorities and Plans, chaired by Archbishop Sheehan.
The restructuring involves reducing the current 68 committees, subcommittees and task forces of bishops to 34. Staff offices corresponding to the committees will be restructured, contributing to a $1.9 million reduction in the annual diocesan assessment toward the USCCB annual budget, Sr. Mary Ann Walsh said in a press release prior to the meeting. "The conference budget for 2007 is $139 million, with $11.9 million, or nine percent, coming from the assessment. The rest of the budget comes from national collections, government contracts, foundation grants, and sales and royalties."
Proposed priorities for the 2008-2011 years include an initiative supporting marriage, vocations to the priesthood and religious life, faith formation based on sacramental practice, and the life and dignity of the human person, the press release said. The bishops also will be asked to consider adding a fifth priority to address cultural diversity in the Church.
Introducing the strategic plan for restructuring, Archbishop Sheehan said, "We are at the point at which we will work in a more efficient and collaborative way."
The process was a pained one, with many bishops speaking out in favor of retaining offices, committees, and staff positions sacrificed by the strategic plan. Archbishop Sheehan and his committee stood firm.
The proposal for the major restructuring of the USCCB passed by a vote of 213-19.