Bobbie Hunt recalled as 'a gift from God'
Friday, May. 06, 2022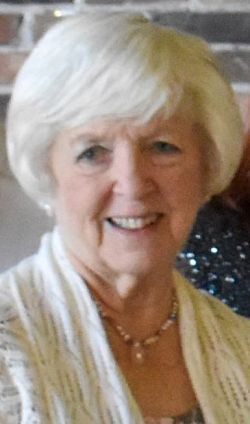 Courtesy photo
+ Enlarge
LAYTON — Roberta "Bobbie" Hunt, who died on April 20, was described as a gift from God by Father Clarence Sandoval in his homily at her funeral Mass April 28 at St. Rose of Lima Catholic Church in Layton.
"We have a gift to celebrate this morning — Bobbie," he said. "She's a gift; she's a gift to all of you, to many, many people. She was given so many awards, so many ways of trying to tell how important she was, but that didn't matter to her. What mattered to her was all of you."
It was fitting and comforting to know that Hunt made her journey from this life during Holy Week and was resurrected with Jesus Christ during Easter Week, Fr. Sandoval said.
The oldest of five children, Hunt was born in Dayton, Ohio on September 27, 1944. After the family moved to San Bernardino, Calif. she graduated from St. Bernardine High School in 1963. On August 22, 1964, she married Don Hunt. The couple has four children, sons Daniel and David and daughters Mary and Anne; 11 grandchildren and eight great-grandchildren.
Although Hunt was the office manager for the Davis County Health Department for several years, she is most remembered for her service to the Church in her parish, in the Diocese of Salt Lake City and as a local, state and national officer in the Council of Catholic Women.
In his homily, Fr. Sandoval expressed appreciation for the help Hunt gave him when he arrived as a new pastor in the parish 11 years ago, in the years since.
"Bobbie was a gift to me," he said.
In those early days Fr. Sandoval was looking for someone to help him in the parish and he was referred to Hunt, he said. "So, I sat down with Bobbie. I said, 'Bobbie, would you like to help me?' and Bobbie said, 'What can I do for you?'… She said, 'Father, whatever you need I will be there for you,' and she was, my friends."
"I will always be grateful for the rest of my life for her," he added.
Both Monsignor Colin Bircumshaw and Monsignor J. Terrence Fitzgerald, respectively the diocesan vicar general and vicar general emeritus, have fond memories of Hunt, having served alongside her on several diocesan committees.
"In every circumstance she has been a faithful disciple of the Lord — always generous, concerned for others, cheerful and humble," Msgr. Fitzgerald said. "Her service on the Diocesan Review Board was exemplary as we dealt with serious issues. We are grateful for her friendship and service and pray she rests in peace."
"Bobbie was the epitome of gracious and competent lay ministry and leadership in whatever area of service or witness she was asked to participate," Msgr. Bircumshaw said. "Any pastor would have been blessed to have her as a member and leader in his parish community."
As a member of St. Rose of Lima Parish, Hunt served as president of the Council of Catholic Women from 1978 to 1980. She was named Woman of the Year at St. Rose in 1981. From 1988 to 1990 she was president of the Salt Lake City Diocesan Council of Catholic Women. In April 1989 she received the Pro Ecclesia et Pontifice Medal from Pope John Paul II. From 2002 to 2004 Hunt was San Francisco province director for the National Council of Catholic Women. She served as NCCW Region 2 vice president from 2005 to 2007 and as NCCW president from 2007 to 2009. In 2009 Hunt was named a Dame of the Order of St. Gregory by Pope Benedict XVI.
Hunt's "example of grace under pressure, patience and kindness towards all and her gift of self in service to Council is something I have admired and will strive to emulate," said current NCCW President and St. Vincent de Paul Parish member Patricia Voorhees, who was friends with Hunt in the Council for 34 years. "She is a beautiful soul and a wonderful example of a faith-filled Catholic woman. I will cherish her friendship and support, and I will miss her advice for the ups and downs of being NCCW president."
The DCCW honored Hunt in memoriam as a 2022 Woman of the Year during their annual convention, which took place the weekend after she died, and is planning a special memorial for October.
Two DCCW members who were at the funeral expressed their love for their friend.
"She was one of my role models, and she was just the greatest friend anyone could have; she was a delight," said Carolyn Wold, DCCW president 2000-2002. "You never saw her without a smile."
"She was just so warm and as Father [Sandoval] said, I can just hear her saying 'anything you need,'" said Sharon Jackson, DCCW president 1998-1999. "She was always so joyful and happy but still a hard, hard worker."
Other former NCCW presidents and board members shared their feelings at Hunt's passing.
"Bobbie was a bright light in a little package," said Sheila Hopkins, NCCW president 2015-2017. "She will be missed. May the angels greet her and take her to heaven."
"I loved her dearly, she was such a kind soul," NCCW Commission Chair Karen Painter said. "I often reflect back on my years in council and Bobbie played a key role. I loved her sense of humor."