Book discussion to focus on Cardinal Sarah's 'The Power of Silence: Against the Dictatorship of Noise'
Friday, Sep. 14, 2018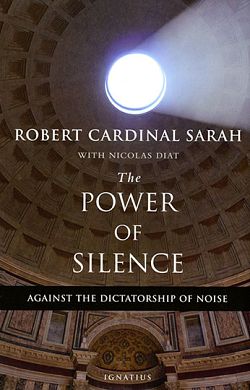 CNS photo
+ Enlarge
SANDY— Silence is the doorway to the divine. That is the premise of the book that will be discussed by the Carmel of the Immaculate Heart of Mary Order of Carmel Discalced Seculars' during their annual outreach meeting on Oct. 6.
"We are an apostolate community," Director of Formation Katie Goudie said of the outreach program. "Part of our mission is to reach out, to recognize that we're connected to each other, that we are part of the regular Church."
In The Power of Silence: Against the Dictatorship of Noise, Cardinal Robert Sarah examines the importance of silence in each individual's life. Silence is the doorway to the divine, Cardinal Sarah said.
"Silence is more important than any other human work for it expresses God," he said, according to the website of Ignatius Press, which published the book. "The true revolution comes from silence; it leads us toward God and others so as to place ourselves humbly and generously at their service."
Cardinal Sarah, who is from Guinea, was ordained in 2010. He currently serves as prefect of the Congregation for Divine Worship and the Discipline of the Sacraments.
"This past year we have been studying the cardinal's book as part of our charism of mental prayer and setting aside time for silence and solitude," Goudie said. "We were so touched by what he has to say and his call to us to allow ourselves to set aside more time to be silent, to develop a certain depth to your life, that we wanted to share it with the community."
The book discussion will be held at Blessed Sacrament Parish. Those who plan to attend may call Goudie to reserve a copy of Cardinal Sarah's book to purchase. If they prefer, they may order it online at Amazon or pick it up from most major book retailers.
However, "people are welcome to come whether they have read the book or not," Goudie said.
Those who are interested are also invited to attend the 9 a.m. Mass prior to the event.
The Order of Carmel Discalced Seculars are lay people who have made commitments to turn their lives to prayer. In addition to individual devotions, members meet monthly to pray together and to study the lives of the Carmelite saints; the works of order founder St. Teresa of Avila, St. John of the Cross and St. Therese of Lisieux; the writings of Pope Francis, papal encyclicals and other works.
The community's meeting may include a social time, Mass or a reflection by the group's spiritual adviser. There are three secular Carmelite communities in Utah: in Salt Lake City, Ogden and Cedar City.
The Salt Lake community, which is sponsoring this book discussion, has 10 active members and three inquirers. There will be literature available for those who are interested in learning about the secular Carmelite way of life. Community members will also be happy to share their vocation, Goudie said.
WHAT: Book Discussion
WHEN: Saturday, Oct. 6, 10:15 a.m.
WHERE: Blessed Sacrament Parish, 9800 South 1700 East, Sandy
A continental breakfast will be served at 10 a.m., followed by the discussion at 10:15 a.m. The event is free and open to the public. RSVP to Katie Goudie, 801-864-0107.