Booklet honors Year of Saint Joseph
Friday, Feb. 19, 2021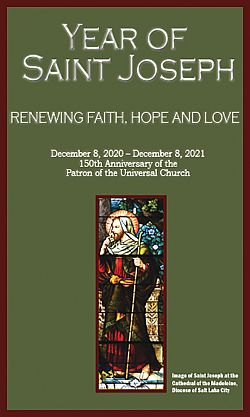 Intermountain Catholic
+ Enlarge
SALT LAKE CITY — In response to a call from Pope Francis to dedicate 2021 as the Year of St. Joseph, the Diocese of Salt Lake City has published a 40-page booklet about the foster father of Jesus. The booklet is available in English and Spanish.
In December, Pope Francis released his apostolic letter Patris Corde ("With a Father's Heart"), which recalled the 150th anniversary of Blessed Pope Pius IX's Dec. 8, 1870 declaration of St. Joseph as Patron of the Universal Church. Pope Francis proclaimed Dec. 8, 2020 to Dec. 8, 2021 the Year of St. Joseph. He encouraged the faithful to study the life of St. Joseph and learn from his example.
The diocese's booklet, "Year of St. Joseph – Renewing Faith, Hope and Love," is dedicated to parents, religious educators and pastors, who foster devotion to St. Joseph, teach about St. Joseph and celebrate St Joseph; and Pope Francis, who added St. Joseph's name to the Eucharistic prayer and gave the Church this year of devotion.
"Year of St. Joseph – Renewing Faith, Hope and Love" includes a message from Bishop Oscar A. Solis.
"During these trying times, Pope Francis encourages us to promote a special devotion to Saint Joseph to help us find our way in a confusing world and to provide an opportunity for our faith renewal, seeking his intercession as our Christian model and an example to honor, follow and imitate in life," the bishop's message reads in part. "As we embark on a spiritual pilgrimage, may the grace of God through the intercession of Saint Joseph, inspire all of us in the diocese to renew our faith, hope and love for God and for one another."
The booklet includes commentary on the life of St. Joseph from Patris Corde along with reflection questions the faithful may use to guide their study and prayer. It is illustrated with photos of statues and paintings of St. Joseph from across the diocese.
Also included are prayers to St. Joseph, pilgrimage ideas to the three Utah parishes named after St. Joseph; information about special St. Joseph days and events and diocesan priests named Joseph; suggested activities to honor the year and links to other online resources such as music, and visual arts featuring St. Joseph, and the tradition of St. Joseph tables.
"Pope Francis has urged people to look more deeply into the traits of St. Joseph, his humility, his courage, his faith, and incorporate those practices or virtues into our lives," said Susan Northway, director of the Office of Faith Formation, who created the booklet.
The booklet is designed to be used by adults, teens, families and religious education classes throughout the diocese. It can be utilized for contemplation, daily prayer for individuals and families and for continuing education.
Families and individuals who undertake pilgrimages to one or more of the St. Joseph churches in Utah will benefit from taking the booklet with them and praying some of the prayers. In schools it can be "a source for deeper learning to be able to hand on the faith to other people," she said.
Along with the booklet, the diocesan website will feature a full year of materials and resources dedicated to helping Utah Catholics observe the year of St. Joseph. They may download materials such as a Pilgrimage Passport, a coloring book and music. The website will be updated throughout the year with new materials, lesson plans and links to additional materials.
Both the booklet and the website resources will be available in Spanish and English. The booklet will be distributed through the parishes and missions beginning next week; it can also be downloaded from the website.
"This is an extraordinary opportunity for people to learn more about St. Joseph and contemplate the virtues that he needed in a time of crisis which are the same virtues we need to develop in times of crisis right now," Northway said.