Buelah Jeanette Archuleta
Friday, Mar. 09, 2018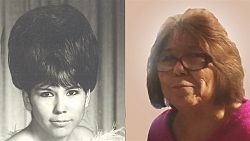 + Enlarge
June 17, 1949 ~ February 15, 2018
Jeanette B. Archuleta passed away on February 15, 2018. She was born on June 17, 1949 to Manuel and Epemenia Martinez Barela in Delta, Colo. She grew up in Ogden and graduated from Ben Lomond High School. She married her sweetheart, Daniel Archuleta, on December 2, 1967. Together they had six children and were married for 50 years.
She was a member of the St. James the Just Parish and worked for many years as a cook for Ogden City Schools and the Deaf and Blind School. She enjoyed camping and fishing, and loved spending time with her family, especially her grandchildren.
Jeanette is survived by her husband, Daniel; children Daniel Jr. (Lisa) Archuleta, Anna (Dion) Gutierrez, Fidel (Cherrish) Archuleta, Manuel Sanchez, LaiLoni Archuleta, and Matthew Archuleta; 17 grandchildren; 13 great-grandchildren; sisters Rebeca Herrera and Jenny Barela; and brother Roger Barela.
She was preceded in death by her parents, three brothers, and a granddaughter, Priscilla Archuleta.
A funeral Mass was celebrated February 26, 2018, at St. James the Just Catholic Church. Interment was at Evergreen Memorial Park
Condolences may be sent to the family at www.myers-mortuary.com