Bus from Holy Cross Ministries now helps migrants in Arizona
Friday, Jun. 07, 2019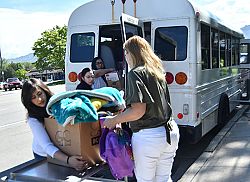 IC photo/Marie Mischel
+ Enlarge
SALT LAKE CITY — A small white bus that had been used to transport preschool children now has a new home with Catholic Community Services Monastery Migrant Shelter in Tucson.
The bus had been used for the Holy Cross Ministries' School Readiness Program in Park City, but HCM no longer needs the bus because the hours of the preschool were expanded, so the children now are transported by their parents, said Patricia Sanders, HCM's director of Development and Communications.
Knowing the bus still could be put to good use, Holy Cross Sister Veronica Fajardo suggested contacting CCS in Tucson, said Emmie Gardner, CEO of HCM. In a prepared statement, Gardner said, "We are so humbled at the opportunity to support such compassionate humanitarian efforts at the border. We stand in solidarity with our brothers and sisters who are searching for a better life. We are grateful that our little white school bus will continue our HCM mission to support the underserved by helping this community of migrants at the border through our donation and partnership with Catholic Community Services of Tucson."
Before sending the bus to its new home, HCM officials gathered donations of basic items for the migrants staying in a temporary shelter in Tucson. Donations came from ServingAll, St. Mary Parish, St. Olaf School, Juan Diego Catholic High School and Saint Vincent de Paul Parish and School. On May 31, the bus was filled with sacks and boxes of donations before it set off for Arizona.
In Park City, the bus also had been used to carry children in the Fourth of July parade, and to transport mothers to church for Mother's Day celebrations, said Holy Cross Sister Mary Ann Pajakowski, HCM education director.
One memento from the bus will remain in Park City. The bus driver, Hilda Marquez, used to have a stuffed toy dog that would rock and sing when its paw was pressed. She would let children who were having a bad day hold the dog.
Marquez is also a parent educator for the Parents as Teachers program, so she will keep the dog on her desk, she said.
Sr. Mary Ann said she was sad to see the bus go because of the memories it holds, but added that she thinks its new use is a good thing. "It makes you feel good about the bus going away," she said. "There's no other better use for it than for our brothers and sisters down there."