C. Larry Gomez
Friday, Jan. 11, 2019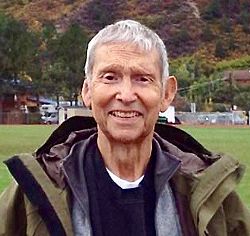 Courtesy photo
+ Enlarge
May 1, 1948 ~ January 1, 2019
C. Larry Gomez, beloved husband, father, grandfather, great-grandfather, brother, uncle and friend passed away at his home surrounded by his family on January 1, 2019 after a long, hard-fought battle with cancer.
Larry was born to Plino and Nickolosa Gomez in Rifle, Colorado. He was a devoted Catholic and a fourth degree Knight of Columbus, a very hard-working man who always took care of his family and helped out anyone in need. He was a very knowledgeable man who knew everything about everything, which is why we would tease and call him "Google Larry." He loved taking his wife, grandkids and friends in the motor home on many adventures.
He worked as an estimator in the commercial building industry and retired from Layton Construction in 2014. After retiring, he enjoyed his leisure time with family, friends, and his much-loved dog, Kia. He also enjoyed his time at the gym, where he was known for being one of their most active members month after month. He loved watching the Denver Broncos all the way until this very disappointing season, where he said he was switching teams.
Larry is survived by his daughter Tina Miller (Kenny), sons Randy Mondragon (Becky), Jeff Mondragon, and Tj Coburn (Lisa), his siblings Orland Gomez, Tina Ortiz, and Carol Juarez (Gilbert), nine grandchildren, a great-grandchild and many nieces and nephews.
He was preceded in death by his beloved wife Elaine, along with his parents, siblings Daniel Gomez, Francis Johnson, Louise Chavez, Viola Gomez, Roberta Martinez, Bennie Gomez and Charles Gomez.
A funeral Mass will be celebrated Saturday, January 12 at 11 a.m. at Saint John the Baptist Catholic Church, 300 East 11800 South, Draper. Committal will be at Mount Calvary Catholic Cemetery. Services entrusted to Starks Funeral Parlor. Please share your memories and photos with the family at www.starksfuneral.com
A special thanks to his niece, Debbie Quintana Huni; Dr. Greg Litton, his oncologist and friend for 20-plus years and Quality Care hospice team and his dear neighbors Earl, Joanne and Kyle Hansen. May God bless you all.