Catholic woman sews, donates more than 1,800 masks
Friday, Oct. 09, 2020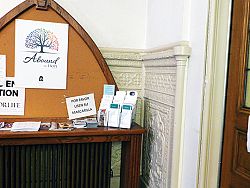 IC photo/Laura Vallejo
+ Enlarge
OGDEN – Maricela Romero, a St. Joseph (Ogden) parishioner, started sewing when she was 12, but she never thought the skill could bring her so much joy during the challenging times brought by the COVID-19 pandemic.
While raising her four children, Romero put sewing aside. However, a few years ago, after seeing an advertisement about the sewing classes at Give Me A Chance, she decided it was time to go back to her passion.
Give Me A Chance is a Daughters of Charity organization dedicated to giving increased opportunities to women.
After some years in the program, Romero was able to open her own shop. When the pandemic struck and the news broke that nurses were running out of medical equipment such as face masks, a fire ignited in Romero's heart, she said.
"I told my husband that I felt like I needed to started doing some masks for them, and my husband said, 'Yes, I support you,'" she said.
Romero began to sew. At first, she donated the masks only to nurses, but when the local Catholic churches started reopening their doors for in-person services, Fr. Michael Sciumbato, pastor of St. Joseph Parish, gave Romero a call.
"He asked me if I was willing to help," Romero said. "I told Father that I was not planning on selling them because I think this is just a token of appreciation that I could give back to the community."
Since then, cloth face masks designed and created by Romero have been available at the St. Joseph Parish entrance for anyone entering the church.
"There is a sign for a suggested donation, which goes to the parish," Romero said.
Having now sewn more than 1,800 masks, Romero said she has never run out of material, which she attributes to Divine Providence.
"I got a lot of material for another project that I had in mind, but by coincidence the material is the same that is used for the masks, so that's where God teaches us that despite the fact that we think we have a solid plan, he is the one that guides us," she said.
Even when the stores were running out of elastic and materials she never did, she said. "It was like God had told me, 'You do the masks, and I will take care of the rest,' and he has."
People need to take care of each other, especially in today's world, she said.
"God has asked us to love each other, to take care of each other. … If I can contribute with this, I will keep on doing it with all my heart. … God is not asking us for money, he asks us to give our time, our talents, and to be in prayer, to hold on to our faith," Romero said.
St. Joseph parishioner Ana Jimenez said she was happy to see the cloth masks available at the parish.
"I was very grateful because I only had one mask for each member of my family, and to keep them clean was a challenge," she said.
Now, thanks to Romero, she has extra masks handy for her family, she said.
Respecting each other and taking care of each other "is the only way we will overcome these challenging times; having faith, being hopeful, keeping his promise of our salvation alive," Romero said.