CCS celebrates 75 years of service
Friday, Oct. 16, 2020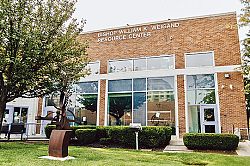 Courtesy photo
+ Enlarge
Cynthia Mecklenburg
SALT LAKE CITY — Chris Bullock never expected to find himself homeless, yet that became his reality. For seven years he lived on the streets, hoping a better opportunity would come his way. During that time, the St. Vincent de Paul Dining Hall in Salt Lake City became a safe haven for him to enjoy a warm meal. The Weigand Resource Center, adjacent to the dining hall, sheltered him from the elements and assisted with his basic needs. With the help from the Weigand Center, Chris progressed toward a better path in life. He got a job as a driver with Advantage Services, Inc. and acquired housing. Since then, he has successfully paid his rent on time, and loves this new chapter of his life.
Chris's story is one of many successes that have resulted from the help of Catholic Community Services of Utah. CCS was established in 1945 by the Most Reverend Duane G. Hunt, fifth Bishop of Salt Lake City, to assist those in need. For the past 75 years, CCS has been providing help and creating hope for individuals seeking self-sufficiency. What started as a small adoption agency has grown to include multiple programs that serve communities along the Wasatch Front and northern Utah.
In CCS' first year, 30 clients were served by a staff of four. Today, CCS has 100 employees and serves close to 30,000 individuals annually. We will highlight our 75th anniversary at our virtual Humanitarian Awards Gala, which will take place on Oct. 21.
With a goal of self-sufficiency, our programs help improve the state of those in need. Our Migration and Refugee Services Department offers refugee resettlement, preferred communities, refugee foster care and immigration service programs. In Ogden, the Basic Needs Department oversees the Joyce Hansen Hall Food Bank, Bridging the Gap and St. Martha's Baby Layette Project.
Thanks to generous support, a new building is under construction that will house all Ogden programs. Basic Needs in Salt Lake City assists individuals experiencing homelessness at St. Vincent's Dining Hall and Weigand Homeless Resource Center. In light of the current pandemic, our essential services are needed now more than ever. We are committed to continuing to provide assistance and have adapted our processes and procedures to ensure the safety and well-being of our staff, clients and volunteers.
CCS helps people from all walks of life, regardless of race, religion or personal circumstances. The amount of care and dedication that our employees put into their work is remarkable. CCS employees do not work out of obligation, but because they genuinely want to help others and make a difference in others' lives daily. CCS helps spread the gospel values of love, compassion and hope through service, support and collaboration.
CCS plays an integral role in our community. No one should feel left behind or forgotten due to unfortunate events in their lives. To see the many ways to get involved and to join us for the gala, visit www.ccsutah.org.
Cynthia Mecklenburg is director of Human Resources & Communications for Catholic Community Services of Utah.