CCS job fairs help the homeless find employment
Friday, Apr. 21, 2017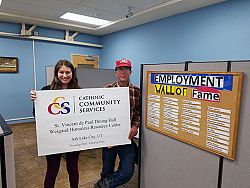 Courtesy photo/Matthew Melville
+ Enlarge
SALT LAKE CITY — When Scott Meers stepped into Catholic Community Services' Weigand Homeless Resource Center on March 21, he was surviving on $250 a week while paying child support as well.
That chance visit to the Weigand Center, which happened to be on the day of CCS' Job Fair, may just have ended up changing his life, Meers said.
Earlier that day, Meers filled a prescription at the 4th Street Clinic, "then I went over to the Weigand Center to watch some TV and there were all of these people crowded around. I asked what was going on, and someone told me that just down the hall there was a job fair," he said.
Meers was worried that the job fair wouldn't do him any good because he had an outstanding bench warrant, he said, but he began talking with a representative from Sky Chefs anyway.
The representative from Sky Chefs, an international airline catering organization, "encouraged me to look into it and keep in touch with him about the job either way," Meers said.
After settling the issue of the warrant, "the next day I met him on site at the airport, (and) got an interview," he said.
At the interview, he was told that Sky Chefs would be happy to hire him, he said.
The next week, Meers returned to the Weigand Center, eager to share the news of his newfound job with the people who he said helped make it happen.
"You guys didn't just see a homeless man and turn your back on him like so many people do," he told Jana Richardson, the employment specialist from AmeriCorps' Homeless Services Program, which helped organize the job fair.
Meers came in insisting that he wanted "to see whoever works on employment here just to say 'thank you' to me and everyone else at the Weigand Center," Richardson said. "He said that he was excited to make more money so that he could save for a place to live and increase his kids' allowances, as well as the amount of child support he could pay."
Richardson helped out with CCS' March job fair in a number of ways, from helping homeless people secure necessary identification information to getting the word out among the homeless population about the job fair.
"Those who are interested get this energy from knowing that there's something they can do right now, today, to get into a good job," she said.
She also followed up with the employment organizations that attended the job fair, making sure both the hiring organization and the homeless person were happy with the arrangement.
Many companies participated in the job fair, including the Grand America Hotel, Harmons, Utah Transit Authority and the Hilton Hotel.
Lisa Gordon, an administrative assistant at Harmons, said that she was happy that several homeless people have found jobs at Harmons thanks to the job fair. Harmons had participated in a job fair last August and was glad for the chance to participate again, she said. The homeless people who were hired will have a variety of duties at Harmons, she said.
"I learned that there's a lot of (homeless people) who something went wrong in their lives and they just need help to get back on their feet. … (Getting a job) is the first step to getting them back in a house," Gordon said.
Jobs are very important for people, agreed Matthew Melville, operations manager of Catholic Community Services of Utah's Homeless Services. "There is an intrinsic value in working, in having responsibilities."
Having responsibilities, a job and a steady income are often all people need to get back on their feet, no matter how bad their situation has gotten, he said, but getting hired can be very difficult for people who are homeless in Salt Lake City.
It's harder to find jobs for people who are homeless than it is for refugees, said Melville, who previously worked for CCS' Refugee Resettlement Program.
Part of the reason for that is because of the negative public view of the homeless, a view that doesn't see individuals in need, but rather an unsavory problem, he said.
The Weigand Center is a safe place where the homeless can find a road leading out of the difficult place they are in, and the center's monthly job fairs are one step toward helping the number of homeless people in Salt Lake City to diminish, Melville said.
The center offers other help for those seeking jobs; see the story "Computer lab, clothes closet also help the homeless."
Weigand Center Fast Facts
Catholic Community Services' Weigand Homeless Resource Center in Salt Lake City serves about 400 people each day. In 2016, that included:
* More than 133,000 total client visits,
* Assisting more than 8,000 unique clients,
* Handing out 179,598 hygiene items,
* 23,419 showers,
* 9,281 sessions at the computer labs,
* 1,351 sign ups for the Salt Lake City Public Library's computer classes to learn job hunting skills and how to navigate the Internet.