CCS offers help for furloughed federal workers
Friday, Jan. 18, 2019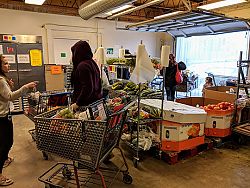 Courtesy photo/Maresha Bosgieter
+ Enlarge
OGDEN — Most people think having a secure job guarantees that their family will have food on the table, but Utah federal workers on furlough or working without pay during the partial government shutdown are facing the possibility of that not happening. Some are receiving some much-needed help from Catholic Community Services of Northern Utah.
CCS's Joyce Hansen Hall food bank is providing, without cost, a full cart of food twice monthly to anyone employed by the federal government affected by the shutdown. All a person needs to do is visit the food bank 9-11 Tuesday – Thursday and show their federal identification or last pay stub.
It's an unusual situation, CCS of Northern Utah Director Maresha Bosgieter said.
"These people are normally on the giving side," she said. "They usually volunteer with us, hold food drives for us and donate to us through the Combined Federal Campaign. When we heard about the shutdown, we wanted to make sure to support them as much as we could."
The shutdown is a big concern in the Odgen area, where more than 5,000 people are employed by the I.R.S. alone.
"A lot of the jobs in this area are some of the more entry-level positions," Bosgieter said. "They're still living paycheck to paycheck. For those families, not knowing when they will receive their next paycheck can be very stressful."
Already, the federal employees have missed their first paycheck since the shutdown. If the situation is resolved soon, they may receive a paycheck on Jan. 26. Otherwise, it could be a while.
Like most food banks, Joyce Hansen Hall receives a large part of its donations during the holidays. Generally, this can last until the Boy Scouts of America does its nationwide food drive in late March. When special circumstances such as the federal government shutdown occur, it can strain the food bank's resources. Bosgieter said partner agencies such as the Utah Food Bank have already contacted her to make sure the CCS food bank has everything it needs to cope with the added demand.
"If this (the shutdown) goes on too long, we may have to reach out to our partners and the public for extra assistance," she said.
Normally, the food bank serves about 100 families a day. Since the shutdown, those numbers have increased by about 50 percent.
So far, Bosgieter has seen mostly young families and single mothers who may not have any kind of safety net come through the food bank's doors. Most of them have been I.R.S. employees, although Bosgieter said they have seen a few Forest Service employees.
Hill Air Force Base has not been affected by the shutdown so far.
"A lot of these families don't have other options," she said. "We can provide them with some food, freeing up what money they do have for other things like bills. Your bills don't stop just because you don't have income."
The last prolonged government shutdown took place from Dec. 16, 1995 to Jan. 6, 1996 and lasted 21 days. During that shutdown, CCS made the same offer to affected families, Bosgieter said. With no end in sight to the shutdown as of press time, she said CCS is gearing up to provide more assistance.
"We will definitely keep going," she said. "The longer the shutdown goes on, the more it is going to affect people. Also, back pay is not a guarantee in this situation, and even if it is offered, many people here are contract workers who may not qualify for it."
Donations may be delivered at the food bank Monday to Friday, 7 a.m. to 3 p.m.; cash donations may be made online at www.ccsnorthernutah.org/programs/joyce-hansen-hall-food-bank.
One thing Bosgieter is nervous about is perishable items like milk. Cash donations can ensure she can provide fresh milk to these families, she said.