25 Years of Priesthood: Fr. Clapham
Friday, Jun. 26, 2020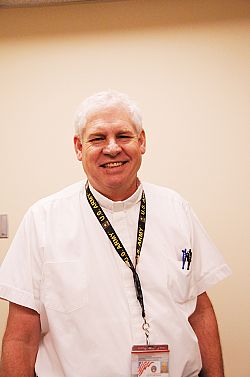 Intermountain Catholic
+ Enlarge
SALT LAKE CITY — Father Bruce Clapham, who is celebrating his silver jubilee in the priesthood, came to the vocation a little later than most. After three years in the U.S. Army, where he served as a military policeman, and 10 years as a post office worker, he felt he had reached the pinnacle of his career without receiving an education. Because he was involved in retreat and parish ministry, he decided to explore the religious life at that point.
Enrolling in Conception Seminary College, Miss., he pursued a bachelor's degree in philosophy. He graduated in 1991. Having found his vocation, he went on to attend St. Thomas Seminary in Denver, Colo., becoming a member of the last graduating class before the college closed.
Although a Denver resident, he felt he had too much family in the diocese to be a priest there, so he applied to the Diocese of Cheyenne, Wyo. In 1995 he was ordained for that diocese by Bishop Joseph Hart.
After ordination, Fr. Clapham served as an associate pastor and parochial vicar in various parishes, then for six years he served as pastor of Newcastle Parish, where he had a flock of 250 families in four churches spread over the vast parish. He estimates he averaged 50,000 miles a year in his car ministering to that parish.
However, "I never really considered myself a great parish priest," he said. "Even as a parish priest, I was more focused on the sick and visiting patients in the hospital. I think that's where my heart was at all the time. I'm far more cut out being a hospital chaplain than I was as a parish priest."
So Fr. Clapham sought a position that felt more like his true calling, becoming a chaplain under the Archdiocese of the Military Services. He was a staff chaplain in Cincinnati, Ohio and in St. Thomas, Ky. for two and a half years. There, he finished his clinical pastoral education, becoming board certified. He was then a chief chaplain in east Kansas for four years. He came to the George E. Wahlen Department of Veterans Affairs Medical Center in Salt Lake City in 2013.
He now serves as chief chaplain, overseeing four chaplains, three from The Church of Jesus Christ of Latter-day Saints and one Protestant.
"I expect them to be offering [spiritual guidance] under the rules of their tradition; I don't tell them how to do their job in the sense of blessings or rituals of their denomination," he said of his supervision of the other chaplains.
Fr. Clapham is also the Catholic subject matter expert for the Department of Veteran Affairs, where he acts as the liaison between chaplain services at the VA and the military archdiocese.
"The main job of a chaplain is to protect the religious liberty of the patient, his/her right to religious expression," he said.
As for his silver jubilee, with all that has been going on, it has been passing largely unnoticed, Fr. Clapham said. "It doesn't seem like 25 years."
"One thing it gives me is at least I've been around for a while; I'm not considered a rookie anymore," he joked. "I think that helps a lot."