25 Years of Priesthood: Fr. Langes Silva
Friday, Jun. 26, 2020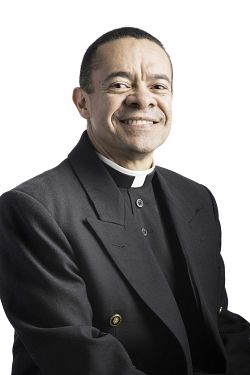 Diocese of Salt Lake City
+ Enlarge
SALT LAKE CITY — Father Langes Silva, the Diocese of Salt Lake City's judicial vicar, is celebrating 25 years in the priesthood. It is a journey that has led him from Medellin, Colombia to New York City to Utah.
As judicial vicar, Fr. Silva judges cases in the diocesan ecclesiastical court and provides counsel to Bishop Oscar A. Solis on canon law.
While he did not know just what form his service would take, Fr. Silva knew early on that he wanted to be a priest. It was a desire born and strengthened as he served in youth ministry in his home parish, helping to provide liturgical and social services for the young people in his community.
A middle child with a brother and sister, Fr. Silva attended the Pontifical Xavierian University, in Bogata, Colombia, where he earned a degree in philosophy, followed by obtaining a theology degree from St. Bonaventure University in Allegany, N.Y. He completed his licensing panel at the Pontifical Xavierian University.
From his early days in the seminary, Fr. Silva was drawn to the study of canon law.
"Canon law requires a specific set of skills, a personal interest and your personal passion for certain things," he said. "I felt from the beginning canon law was a specific way to serve the people in the Church."
After being ordained to the priesthood for the Diocese of Salt Lake City on June 3, 1995 by Bishop George H. Niederauer, Fr. Silva was appointed adjutant vicar as a judge in the diocese's tribunal. He was named judicial vicar in 2003.
Although Fr. Silva's primary responsibilities in the diocese have always been dedicated to the Tribunal, he has also served in many other capacities, including as a parochial vicar, vice chancellor, a member of the Diocesan Ecumenical Commission and as Diocesan Consultor.
As judicial vicar, he is delegated by the bishop to manage all canonical affairs for the diocese. The most common procedures he deals with are annulments and determining the validity of a marriage so that people can remarry in the Church and receive all the sacraments. He also handles complaints that pastors or the faithful have in matters of ministry in the parishes. He oversees all procedures for the clerics, including when they leave the priesthood.
While some might see canon law just as a myriad of rules and regulations that govern the Church, the reality is something more, Fr. Silva said.
"One of last canons in canon law states that all things that are contained in the code of canon law are for the good of the Church and for the salvation of the souls," he said. "I think when you follow these procedures you learn about people's lives and experience and how difficult it can be. People are exposed to many things in life and you deepen your sense of compassion and mercy for people so you try to help in the best way you can."
Working as a judicial vicar has deepened his compassion for the members of the Church who face many struggles in their personal lives, he said.
"Sometimes you look for some exceptions in the law to help these people that are wounded … to offer some support by the Church, so basically that helps you to understand the pain of the people and the suffering of many people in the world," he said. "That allows you to motivate yourself to serve them better, to make a difference in their lives."
Fr. Silva acknowledges it can often be difficult to walk with people who are suffering, those who have struggled in bad marriages or have been the victim of clerical sexual abuse, or with brother priests who must be dismissed from the ministry. He finds strength through celebrating the Eucharist, and in prayer and meditation, he said.
While acting as the bishop's representative in canon law matters can be difficult, Fr. Silva said it is also rewarding.
"The rewards are seeing many people in many parishes that have been able to complete their cases of annulment and have been able to establish their families and seeing them participate as active members of our parishes and our diocese," he said.
The past 25 years have been a journey, Fr. Silva said.
"As you look back, you realize that you have learned many things; you have gone through many experiences and you have collected all these experiences and you feel much empowered to serve your people based on that knowledge and those experiences," he said. "It is a road that takes you to learn and to mature and to see a faith-filled life in a much better way."