Charles Brookins Wood
Friday, Dec. 07, 2018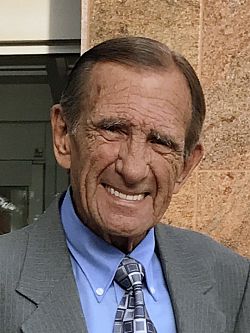 Courtesy photo
+ Enlarge
April 14, 1939 ~ November 11, 2018
Charles Brookins Wood (79) of Mendon, Utah, loving husband, father, grandfather, and friend passed away November 11, 2018.
He was born April 14, 1939 in Long Branch, New Jersey to Edward Wood and Kathryn Farry Wood. He was raised in Asbury Park, New Jersey with his sisters Mary Ellen and Kathleen. He attended Asbury Park High School, where he was active in sports and graduated in 1957.
He met his sweetheart Rosalind Radford at the Jersey shore and they were soon married at Our Lady of Mount Carmel Church in Asbury Park, New Jersey on March 30, 1958. They celebrated 60 years of marriage this year. Blessed with three children, Deborah, Chuck Jr., and Darren, they lived the early years in Shark River Hills, New Jersey. They spent their summers at the shore at Ocean Grove, New Jersey and vacationed in Maine and throughout the East Coast.
In January 1975, Chuck and Roz moved their family to Logan, Utah. He was a master floor covering contractor and started Cache Country Carpets and, later, HartWood Floors. He saw much success and was highly respected throughout the floor-covering industry.
Chuck was a passionate sportsman and enjoyed hunting, fishing, gun collecting, reloading and competitive shooting where he won many awards. He was a respected and admired hunter education instructor for many years and made many long-lasting friendships.
He and Rosalind are lifelong members of the Catholic Church, where they have served in many capacities throughout the years, including Worldwide Marriage Encounter.
He could brighten up any room with his charm, quick wit, personality, and always had a new joke to tell … and oh boy, could he tell a good joke. He will be dearly missed by his adoring wife and family.
Chuck leaves behind his loving wife, Rosalind; children Deborah (Matt), Chuck Jr. (Jana) and Darren (Lori); nine grandchildren; 12 great-grandchildren; his sisters Mary Ellen (Vinnie) and Kathleen (Tom); and many nieces and nephews. He was preceded in death by his parents and mother-in-law Mona Radford. A funeral Mass was celebrated Friday, Nov. 16 at St. Thomas Aquinas Catholic Church. A graveside service was held at the Mendon City Cemetery.