Charles Burchett
Friday, Mar. 15, 2019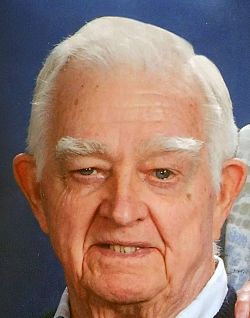 Courtesy photo
+ Enlarge
February 13, 1929 ~ March 1, 2019
Charles Burchett, devoted husband, father, grandfather and great-grandfather, passed away March 1, 2019 at the age of 90.
Chuck was born in Clovis, New Mexico on February 13, 1929 to Jess and Nellie Burchett. He was the youngest of eight children, all of whom preceded him in death.
His family lived in New Mexico during the early portion of his childhood. The family moved to Emmett, Idaho, where he attended grade school, then later moved to Boise for high school. While in high school at St. Teresa's Academy, he caught the eye of Jean Flaherty and a year after graduating from high school they were married. Their loving relationship of almost 70 years has been an inspiration to us all.
He served his country in the Idaho National Guard from 1949 until 1957. He served on active duty from 1951 to 1953 during the Korean War, stationed at Moody Air Force base in Georgia, then later to George Air Force Base in California.
He worked for the Federal Aviation Agency for many years as an air traffic controller. He retired in 1983.
In 1970, Mom and Dad realized a life-long dream of moving to an acreage out of the big city and bought a three-acre homestead complete with barn and pasture in West Jordan. Later, having their children raised and their working days behind them, Chuck and Jean enjoyed perhaps the best years of their lives footloose and fancy free, traveling in their motor home.
He is survived by his loving wife, Jean, and the following children, grandchildren and great-grandchildren: Tom and Rose Burchett and children: Monica Brinkerhoff and children, Matt (deceased August 13, 2018) and Heather Burchett and son, Dom and Jill Burchett and children, Gina (Prema) Zipp and children; Jerry and Cynthia Burchett and children: Sarah (Zack) Gondek and children, Mary Burchett, Emily Burchett, Laura (Jeremiah) Sasala and children; Ken and Veola Burchett and children: Stephanie (Phillip) Schmitz and children; Michele (Keith) Foust and children; Brian (Emma) Burchett and daughter, David (Amy) Burchett and children; Jim Burchett; Dean Burchett; Ann Burchett-Hilliard and daughter, Jeanmarie (Hung) Gee and children.
A funeral Mass was celebrated March 8, 2019 at St. John the Baptist Catholic Church. Chuck was laid to rest next to his beloved grandson Matthew Burchett at Eastlawn Memorial Hills. Arrangements entrusted to Starks Funeral Parlor. Please share your photos and memories with the family at www.starksfuneral.com.