Posadas novena to be celebrated in diocese
Friday, Dec. 07, 2018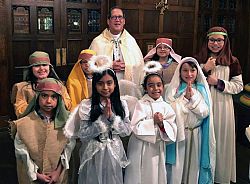 IC Archive photo
+ Enlarge
SALT LAKE CITY — The diocesan Hispanic Commission, with the support of the diocesan Hispanic Ministry, every year schedules Posadas in many parishes and missions around Utah.
Posadas are an important part of the Mexican Christmas tradition. The Spanish word "posada" means "inn" or "shelter," and these celebrations recreate Mary and Joseph's search for a place to stay in Bethlehem. Posadas are held on each of the nine nights leading up to Christmas, from Dec. 16 to Dec. 24.
The nine nights are said to represent the nine months that Jesus spent in Mary's womb, or alternatively, they symbolize the nine-day journey to Bethlehem.
This year the diocesan Posadas will start on Sunday, Dec. 16 in two parishes, the Cathedral of the Madeleine in Salt Lake City and San Felipe Parish in Wendover. For times and addresses, see the list at right.
Posadas Schedule
Sunday, Dec. 16, 4:30 p.m. at Cathedral of the Madeleine, 309 E. South Temple, Salt Lake City AND 7 p.m. at San Felipe Catholic Church, 606 E. Aria Blvd., Wendover
Monday, Dec. 17, 7 p.m. at Sts. Peter and Paul Catholic Church, 3560 West 3650 South, West Valley City
Tuesday, Dec. 18, 7 p.m. at St. Joseph Catholic Church, 506 24th St., Ogden AND 7 p.m. San Isidro Mission, 12972 West Highway 6, Elberta
Wednesday, Dec. 19, 7 p.m. at St. Therese of the Child Jesus Catholic Church, 624 W. Lennox St., Midvale AND 7 p.m. at St. Mary of the Assumption Catholic Church, 1505 White Pine Canyon Road, Park City
Thursday, Dec. 20, 7 p.m. at Our Lady Of Guadalupe Catholic Church, 715 West 300 North, Salt Lake City
Friday, Dec. 21, 7 p.m. at Santa Ana Mission, 600 North 760 West, Tremonton AND 7 p.m. at St. Jude Mission, 160 E. Center St., Ephraim AND 7 p.m. at San Andres Catholic Church, 315 East 100 North, Payson
Saturday, Dec. 22, 7 p.m. at Our Lady of Lourdes Catholic Church, 2840 South 9000 West, Magna
Sunday, Dec. 23, 7 p.m. at St. Thomas Aquinas Catholic Church, 725 South 250 East, Hyde Park
Monday, Dec. 24, All the parishes.
The public is welcome at all the events. For information, contact the parish.