Diocese to celebrate Simbang Gabi novena
Friday, Dec. 07, 2018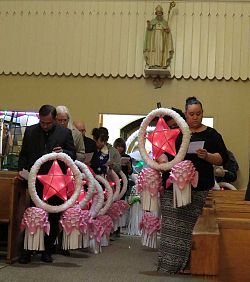 IC Archive photo
+ Enlarge
SALT LAKE CITY — Nine Masses to celebrate the Filipino tradition of the Simbang Gabi novena have been scheduled through the Catholic Diocese of Salt Lake City beginning Saturday, Dec. 15 and concluding Sunday, Dec. 23.
A community Christmas program known as Pasko ng Bayan has also been scheduled to take place on Dec. 25; it will include a Mass.
The Misang Gabi is a Filipino tradition that dates back more than 400 years, to when the Franciscans in the Philippines provided early-morning Masses during Advent for farmers before they went out to their daily
chores. The Masses were intended to prepare the farmers for the coming of Christ in Christmas.
The tradition in Salt Lake City has evolved to celebrate the Masses in the evenings to accommodate people's work schedules and also due to the usual low temperatures of the season in Utah. The Misang Bayan Filipino Catholic Community of Utah organizes this novena every year.
"Everybody, Filipinos and non-Filipinos alike, are invited to experience one of the holiest Filipino traditions, called Simbang Gabi," reads the invitation to the celebrations.
The Pasko ng Bayan will include a Christmas Mass. After the Mass there will a potluck reception complete with traditional Filipino foods.
Simbang Gabi Schedule
Saturday, Dec. 15, 5 p.m. at the Cathedral of the Madeleine, 309 E. South Temple, Salt Lake City
Sunday, Dec. 16, 4 p.m. at St. Mary Catholic Church, 4050 South 3900 West, West Haven
Monday, Dec. 17, 7 p.m. at St. Peter Catholic Church, 622 North 600 East, American Fork
Tuesday, Dec. 18, 7 p.m. at Our Lady of Guadalupe Catholic Church, 715 West 300 North, Salt Lake City
Wednesday, Dec. 19, 7 p.m. at St. Joseph the Worker Catholic Church, 7405 S. Redwood Road, West Jordan
Thursday, Dec. 20, 7 p.m. at St. Martin de Porres Catholic Church, 4914 South 2200 West, Taylorsville
Friday, Dec. 21, 7 p.m. at St. Mary of the Assumption Catholic Church, 1505 White Pine Canyon Road, Park City
Saturday, Dec. 22, 5 p.m. at St. Ambrose Catholic Church, 1975 South 2300 East, Salt Lake City
Sunday, Dec. 23, 5 p.m. at St. Patrick Catholic Church, 1058 West 400 South, Salt Lake City
The Pasko ng Bayan will be Tuesday, Dec. 25, 3:30 p.m. at Our Lady of Lourdes Catholic Church, 670 South 1100 East, Salt Lake City.
For information, contact Marina Fernandez, 801-652-6828 or Jun Enriquez, 801-554-2885.