Collection of Fr. Charles Cummins' homilies available
Friday, May. 06, 2022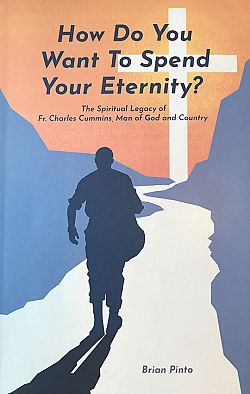 Courtesy photo
+ Enlarge
OGDEN — To honor the 85th birthday of the Newman Center at Weber State University administrator Father Charles Cummins, and his spiritual legacy, a collection of his homilies has been printed.
How Do You Want to Spend Your Eternity? The Spiritual Legacy of Fr. Charles Cummins, Man of God and Country was assembled and edited by parishioner Brian Pinto. A collection of 63 homilies from Oct. 8, 2020, to Oct. 17, 2021, the book covers several topics, including how to love God and one's neighbors; sharing with the less fortunate; Christ's Real Presence in the Eucharist; discerning God's will and living in accordance with it; and following Jesus as the path to heaven.
The book's forward was written by the Most Rev. Oscar A. Solis, 10th Bishop of Salt Lake City.
"The most powerful sermons are not only those that are spoken, but also those that are lived," Bishop Solis wrote. "Fr. Cummins' life, zeal, as well as his dedication as a priest as well as his perseverance and generosity support the message he preaches."
Fr. Cummins has spent the last 54 years as a priest serving in various assignments in the Diocese of Salt Lake City. Prior to that he served a four-year tour as a U.S. Marine.
"Fr. Cummins is joyful and witty," Pinto writes in the book. "Talk to him and you leave with a spring in your step."
Pinto first heard Fr. Cummins' homilies when he attended services at the Weber State Newman Center. Although he enjoyed the preaching, he switched to Mass at Holy Family Catholic Church so he could sing in the choir there. Then, during the early days of the pandemic, local churches were closed to public worship. But even when the churches reopened and services resumed, Pinto stayed away because his wife, Nancy Pinto-Orton, was struggling with cancer and did not feel comfortable around others because of the possibility of infection. She died just as the book was being published.
Pinto expressed his concerns about attending public liturgies to Fr. Cummins, who invited him to attend Mass with just the priest on Thursdays, Fr. Cummins' "day off." Pinto appreciated this opportunity and sought a way to acknowledge what it had meant to him, he said. He broached the idea of putting together a book of Fr. Cummins' homilies with the priest, who demurred. Pinto persisted. Finally, Fr. Cummins gave his approval but expressed concern that he not be put on a pedestal.
"Fr. Cummins' wish is that this book should bring people closer to God," Pinto said. "Writing this book has rejuvenated my faith and it has been a privilege."
A limited number of free copies of How Do You Want to Spend Your Eternity? are available. For information, contact Fr. Cummins at the Weber State Newman Center, 801-399-9531. Fr. Cummins asks that those who enjoy the book consider donating to Catholic Community Services of Utah or Give Me A Chance in Ogden.