Conference on Mary Magdalene in Salt Lake City
Friday, Nov. 02, 2018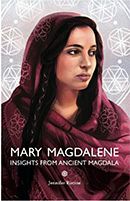 Courtesy photo
+ Enlarge
SALT LAKE CITY— Catholic author Jennifer Ristine will present on Mary Magdalene and the city of Magdala at a conference Saturday, Nov. 10 at Christ United Methodist Church. Ristine is a consecrated woman and a member of the Regnum Christi Movement, which is dedicated to missionary work. Since 2014, she has been the director of the Magdalena Institute at the recently excavated site of the city of Magdala, Israel.
The institute "seeks to highlight issues of human dignity – with an emphasis on the dignity of women – and contributions of the feminine genius in both religious history and facets of life today. We hope to engage in important discussions and share the good news of essential characteristics that women offer humanity," according to its website.
The conference, titled "Mary Magdalene – Insights from Ancient Magdala," will include three presentations by Ristine: "Mary Magdalene's Hometown: A Virtual Tour through Ancient Magdala;" "The Life Drama of Mary Magdalene: Insights from Sacred Scripture," and "The Mystery of Mary Magdalene: Insights from Historical Tradition," along with a question-and-answer session and book signing.
"I would like to 'unveil' some of the mystery surrounding the person of Mary Magdalene by sharing insights gained through study, reflection and prayer on the archaeology, geography, and history of ancient Magdala, as well as the scriptural passages and historical traditions prevalent through the centuries," Ristine said in a press release. "We will also reflect on the dynamic of her encounter with Jesus, her response to the call to discipleship and her maturity in freedom and love, hoping that it can serve as reflection for your personal journey with the Lord."
Author of a book about Mary Magdalene with the same name as the conference, Ristine, who is originally from Chicago, has a Master of Arts in theology, a Bachelor of Arts in pastoral and religious studies (in conjunction with Regina Apostolorum, Rome), and a Bachelor of Science in special education.
"Every Christian disciple has so much to learn from the real Mary Magdalene. Jennifer Ristine helps sift fact from fiction, Gospel from pseudo-gospel, feminine genius from feminine gnosticism, in a way that will help everyone get to know, love and imitate the once demon-dominated woman who became the great Apostle to the Apostles," said Father Roger J. Landry, in the book's promotional piece.
Fr. Landry is author of "Plan of Life: Habits to Help You Grow Closer to God."
WHAT: "Mary Magdalene — Insights from Ancient Magdala" conference
WHEN: Saturday, Nov. 10, 9 a.m. – 1 p.m.
WHERE: Christ United Methodist Church, 2375 East 3300 South, Salt Lake City
Jennifer Ristine, director of the Magdalena Institute in Magdala, Israel will present. A $20 donation is suggested. Sponsored by the CUMC Permanent Endowment Fund. For information or to register, email christumc.secretary@gmail.com or call 801-486-5473. Registration deadline is Nov. 7.