Conservation groups seeks to preserve old Trappist monastery in Huntsville
Friday, Aug. 20, 2021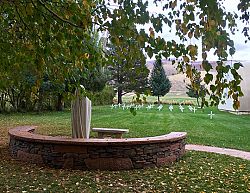 Courtesy photo/Michael O'Brien
+ Enlarge
HUNTSVILLE – During its 70 years of its existence, the Abbey of Our Lady of the Holy Trinity had a strong relationship with Utah's Catholic community. Over the years, the Trappist monastery, established in 1947 in Huntsville, drew visitors who bought jam, bread and other goods from the monks, and joined them for Mass or other liturgical services.
Others like local author and attorney Michael O'Brien found refuge from the storms of life. (O'Brien's memoir of his experiences with the monks, Monastery Mornings: My Unusual Boyhood Among the Saints and Monks, recently was released by Paraclete Press). Over the years the monks also won over the hearts of their neighbors who were mostly members of The Church of Jesus Christ of Latter-day Saints. Working alongside many of those neighbors in the fields of the 1,080-acre property, they built relationships that transcended their religious differences and left a legacy of love among the community.
The monastery closed in 2017 when the seven remaining monks made the decision that, due to their advanced ages, they could no longer operate it. However, thanks to a local neighbor, the land has not gone to developers like much of the property in the Ogden Valley. Instead, Bill White and his partner Winston Wangsgard purchased the land, hoping to preserve it as an agricultural operation and wildlife habitat. White now operates the land as a working farm and has invested a large sum of money to modernize it, but much remains to be done.
White is working with Summit Land Conservancy and its sister organization Ogden Valley Land Trust to protect the former monastery under a conservation land easement that would permanently designate the use of the land for those purposes. Under the conservation easement, Summit Land Conservancy and Ogden Valley Land Trust will purchase the development rights for the property at a cost of more than $9 million. A Natural Resources Conservation Service's grant will provide $8.8 million. The two partners are donating 57 percent of the appraised property value.
"That's extraordinary; normally landowners donate between 15 and 35 percent," said Cheryl Fox, Summit Land Conservancy director.
To qualify for the grant, the conservancy and land trust must raise the remaining $300,000 by Nov. 1. So far, they have raised $175,603 from community members and individual donors.
"The monastery was a real special place, and even though our organization is based in Summit County, a lot of us knew about it and had been there and had gone to listen to the monks' chants," Fox said.
"This property has such a legacy of devotion; you can feel it when you go," she added. "The landowners we work with have a very deep connection to their land and they want to see it preserved. The monastery property takes that even one step further and I think it's because of the years of the monks working that land. They viewed their agricultural labor as an act of devotion. To be able to protect that legacy and pass that on as heritage to future generations, I think is absolutely critical."
"It comes down to thanking the monks and preserving their legacy," said O'Brien, who encourages others to donate to this cause. "For 70 years, those monks contributed so much to the community, to individuals, with their love, prayers and financial support. This is a way to give something back by supporting the efforts to preserve their land as farmland, which is what they wanted."
To contribute to this cause, visit https://ogdenvalleylandtrust.org/donations/monastery-project/ or send a check to Ogden Valley Land Trust, indicating "Monastery Campaign" in the memo line, to Ogden Valley Land Trust, P.O. Box 412, Huntsville, UT 84317.