DCCW begins 2020-2021 council year
Friday, Nov. 20, 2020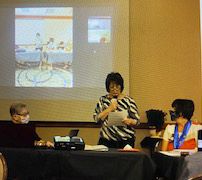 Courtesy photo
+ Enlarge
Becky Colombo
The Salt Lake Diocesan Council of Catholic Women (DCCW) kicked off our council year with a meeting at the Ramada Inn in Price on Sept. 26. We want to extend a HUGE thank you to Mr. Tony Basso for donating the use of the banquet room at the Ramada Inn free of charge. The facility allowed the women to meet with social distancing guidelines. The meeting was hosted by the women of St. Anthony Council of Catholic Women of the Eastern Deanery. Everyone wore masks and a few members took advantage of the ability to meet electronically. It was great to see the women (behind masks) and plan the council year for 2020-2021.
The DCCW celebrated Council Sunday on Oct. 18 in their different parishes throughout the state. The format was slightly altered this year because the members usually host a reception after Mass, and assist as greeters, lectors, Eucharistic ministers and such. Because of the pandemic, this year everything was scaled down to follow the guidelines for social distancing in each parish. Our members have learned to be very creative in new ways to stay connected and keep our mission in our councils active.
We are proud to say that a member of our Salt Lake DCCW is the president-elect of the National Council of Catholic Women. Patricia Voorhes of Salt Lake City will be installed as NCCW president in August of 2021. We are honored to have Pat represent the women nationally. Pat has been very active in all levels of council, NCCW and as director of the San Francisco Province.
Due to the recent announcement from the governor of our state, the DCCW board made the decision to meet online using technology available. This falls in line with the NCCW and many other organizations across the nation who have seen the need to adapt. Our annual meeting in October with the Most Rev. Oscar Solis, Bishop of Salt Lake City, was a virtual meeting held online. It was a productive meeting with the bishop, and he gave us many suggestions on how to deal with these serious issues we are all experiencing in our parishes with the economy and social distancing.
We are all learning to adapt to virtual meetings and ways to carry on our very important mission of the DCCW. Our Mission: The objective of the DCCW is to unite Catholic women's organizations and individual Catholic women in the state of Utah, Diocese of Salt Lake City, in purpose, through support, empowerment, and education in the areas of spirituality, leadership, and service and to respond with Christian values to current issues in the Church and society.
Becky Colombo is president of the Diocesan Council of Catholic Women.