Deacon Candidates Class of 2020
Friday, Jan. 10, 2020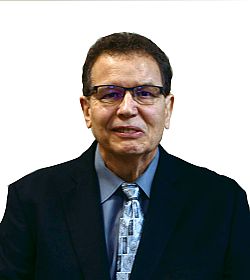 IC photo
Photo 1 of 5
For the past three years, five men have been preparing for the diaconate in the Diocese of Salt Lake City. All of them previously had completed the four-year Lay Ecclesial Ministry formation program.
On Friday, Jan. 31, Bishop Oscar A. Solis will ordain the five men as permanent deacons, during a celebration beginning at 7 p.m. at the Cathedral of the Madeleine, 309 E. South Temple. All are invited.
Name: Jeffrey Allen
Spouse's Name: Mindi Allen
Home Parish: St. Vincent de Paul
Occupation: Director of Shared Services
What will becoming a deacon mean to you?
Becoming a deacon is an opportunity to give back to the Lord who has given me so much. I feel called to spend the rest of my life seeking his will and serving others. I'd like to meet people where they are and share the love of Christ with them. By humbly and patiently performing the ministries of Word, sacrament, and charity, I can act as Christ the servant. United with priests and laity, we can spread the Gospel and build up the body of Christ.
Name: Jeremy Castellano
Spouse's Name: Melissa Castellano
Home Parish: Cathedral of the Madeleine
Occupation: Photojournalist
What will becoming a deacon mean to you?
Becoming a deacon means to me the opportunity to serve Jesus Christ in his church in which he is the head and we are all the body. We all belong inseparably bound together as God's family. God doesn't necessarily call the best, but those he needs. I am humbled to respond to his call; I am not the best, but I believe that through his call that who I am, with all my faults and imperfections, is what he needs out of me and I am happy to offer it all up to him to make me an instrument of his work.
Name: Robert Cowlishaw
Spouse's Name: Rocio Cowlishaw
Home Parish: St. Francis Xavier
Occupation: Online Facilitator
What will becoming a deacon mean to you?
For me, becoming a deacon is a fulfilment of a long journey that began with an initial desire to serve. For many years I have served the Church in various capacities, but the specific desire to be a deacon was always on my mind. Finally, the opportunity for me to start a diaconal journey became real. The road has been long and would not have been possible without Rocio, my supportive wife.
Name: Thomas Devereux
Spouse's Name: Maria Devereux
Home Parish: St. Mary
Occupation: Aerospace Quality Assurance System Analyst
What will becoming a deacon mean to you?
What becoming a deacon means to me is, simply, giving back for all the blessings God has given me and my family. My journey has been one of personal transformation; one of deeper prayer, of deeper faith, and of absolute trust. It means to remain humble and to remember my actions are to lead others to Christ. I pray I am able to give service and comfort to those I shall meet on this journey.
Name: Gregory Werking
Spouse's Name: Theresa (Teri) Werking
Home Parish: St. Thomas More
Occupation: Pilot
What will becoming a deacon mean to you?
Becoming a deacon means saying "yes" to God's call to service. Like Samuel, I started hearing a faint calling, but now after many years in retrospect, I finally understand and feel at peace with this decision. As my faith grew, my friends and family encouraged me. Ordination now seems so natural and fitting. I've transitioned from a college student who avoided putting extra effort into his homework to an eager learner of our Catholicism. This call to service doesn't feel like a burden, but an acknowledgement to share my faith with the world. I stand today very humbled and honored to accept this challenge.