Diocesan Advent Retreat is Dec. 4
Friday, Nov. 26, 2021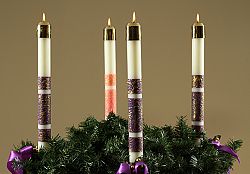 CNS photo/Michael Alexander, Georgia Bulletin
+ Enlarge
The Diocese of Salt Lake City Advent retreat will be held Saturday, Dec. 4, at St. John the Baptist Parish, 300 East 11800 South, Draper. The event will also be livestreamed.
The English session, which will be from 9 to 11 a.m., will open with Morning Prayer. Then Father Stephen Tilley, pastor of St. John the Baptist Parish, will present "How the Example of St. Joseph Prepares us for the Coming of Christ."
The Spanish session, which will be from 12:30 p.m. to 2:30 p.m., will begin with Day Prayer followed by a presentation on "St. Joseph and the time of Advent," by Father Jorge Roldan, pastor of Our Lady of Guadalupe Catholic Church.
All Catholics in the diocese are encouraged to attend this retreat. There is no cost, but registration is required for seating or to receive the livestream link. Register with the Office of Worship, 801-328-8641, ext. 357 or the Office of Hispanic Ministry, 801-328-8641 ext. 332.