Diocesan Development Drive: 'One Church, One Mission, One Heart'
Friday, Feb. 02, 2018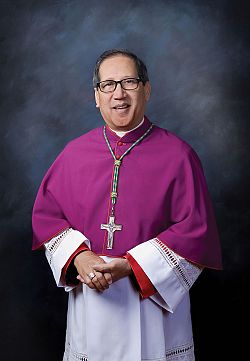 + Enlarge
Greetings of Christ's peace and love to all!
This week, our local Church launched a very important endeavor, the yearly Diocesan Development Drive (DDD). The DDD provides the necessary assistance to sustain the ongoing and expanding Church ministries in our parishes, missions and schools, especially in those communities that do not have significant financial means and resources. Our endeavor helps fund the faith formation of children in our Religious Education programs, youth and young adult ministry, pastoral development of lay leaders, the education of future priests (seminarians), deacons and the laity as well as the extensive works of Catholic Community Services in helping the poor, the sick, the homeless, immigrants and refugees.
This helps us understand that the life of all the various Church ministries and programs in our diocese relies on your spirit of giving and sharing. We all know that there is so much potential; when we pool and share our resources together our Church gains strength to pursue her mission and is more capable of responding to the spiritual and pastoral needs of all the faithful. Your generous contribution is critical in carrying out the mission of Christ in Utah and in making a difference in the lives of the people we serve. The DDD offers our parish communities the opportunity to join together, to be of one heart to support one another.
The DDD is a great test for us, and a challenge to our unity and solidarity as one Church community. As your new bishop and servant leader, I make this personal appeal to all our priests, deacons and parishioners throughout the Diocese for your all-out support of our stewardship drive. Let us remind ourselves that we are one faith family, brothers and sisters to one another. All of us share one mission as followers of Christ – to be of service to each other and to provide hope to all people. We are chosen and sent by God through our baptismal call to be disciples of Christ, with one heart for the mission of evangelization.
There is so much to hope for in achieving the kind of Church we want to have. I am excited to share with you the blessings I experienced during my first year as your new bishop, visiting all the parish churches, schools and several of our missions throughout the diocese. It is inspiring to see the dedication of our priests, deacons, religious and the collaboration of parish leaders and lay people in carrying out the mission of the Church. Various ministries in our parishes and missions are thriving in spite of the many challenges. The spiritual joy and excitement of God's faithful are palpable everywhere I go.
The Catholic faith in Utah and our diocese is very much alive! Let us continue our spiritual journey as a faith community, and together help each other to achieve the goal of the 2018 Diocesan Development Drive. Its success, which depends largely on your generous support, is beneficial to our diocese. It will enable us to remain faithful in our mission of evangelization, of sharing the Good News of God's love to others and in making our Church the living presence of Christ in the world.
I look forward to our close partnership in our mission as one Church family and as missionary disciples of Christ. Thank you for your collaboration and support.
Through the intercession of our Blessed Mother, Our Lady of Guadalupe, may God bless us all!
+ The Most Rev. Oscar A. Solis
Bishop of Salt Lake City