Diocesan staff advocate in D.C. for the needy
Friday, Feb. 15, 2019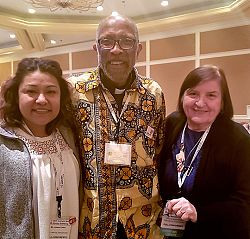 Courtesy photo/Junuee Castro
+ Enlarge
SALT LAKE CITY — Two staff members of the Diocese of Salt Lake City traveled to Washington, D.C. Feb. 2-5 to meet with federal legislators about social justice issues.
Maria Cruz Gray, director of the diocesan Office of Hispanic Ministry, and Junuee Castro, director of the Office of Youth and Young Adult Ministry, had the opportunity to give voice to the voiceless by participating in the Catholic Social Ministry Gathering organized by the Department of Justice, Peace and Human Development in collaboration with seven other departments of the U.S. Conference of Catholic Bishops and 15 national Catholic organizations.
This annual gathering of Catholic social ministry leaders brings together hundreds of participants "whose faith inspires them to respond to pressing current domestic and global challenges relating to poverty, war, injustice and the promotion of human life and dignity," according to the event invitation.
Gray has attended previous gatherings, but this was the first year for Castro. They were invited because "they need more Hispanic voices. … They understood that that meant a sacrifice [for us] but they would like to have us," Gray said.
The theme for the gathering was "Let Justice Flow (cf. Am. 5:24): A Call to Restore and Reconcile." Gray said that they learned a lot about how to advocate for the rights of the most needy in Utah.
"We talked about how we help each other; how we all are brothers and sisters, and how we have to accompany each other," Gray said.
The Catholic bishops' pastoral letter against racism, "Open Wide Our Hearts: The Enduring Call to Love," also was presented at the gathering, which drew about 600 Catholics from all over the United States.
"We saw a united Church. … We reinforced our Catholic values," Castro said about the gathering.
"We also talked about why are we Catholics; how are we Catholics. … This year there was an initiative especially for young people, to help them learn more about social justice and the common good," Castro said.
One of the most important aspects of the annual Catholic Social Ministry Gathering is that the participants meet with members of Congress and their staff on issues of key concern to Catholics. At the Capitol, Gray and Castro met with Utah legislative representatives and senators.
"We talked about the needs that our community has," Gray said. "For example, for my office it was very important to put the theme of immigration on the table, … how we have to do something now for our immigrants, how we need urgent comprehensive reform that doesn't separate families. … We told them that our families are having a really harsh time."
Castro focused on Deferred Action for Childhood Arrivals, or DACA, a federal immigration policy that has allowed some individuals who were brought to the U.S. as children to be deferred from deportation and also to be eligible for a work permit.
"We brought some proposals to them," Gray said.
Speaking on behalf of the necessities of the young people in Utah was a very humbling experience, Castro said.
"We tried to find the common ground with them. … For example, some of them are pro-life, … so I presented that we, as Catholics, care about life in each of its stages, and one of them relates to DACA," Castro said. "I shared stories about them. … That moment – even though they were not physically there, it was theirs."
The message that Gray and Castro brought back is that "We are not alone. … The USCCB is aware of our needs; they care and are working toward our best interests," said Gray, adding that Catholics need to "work for justice, love tenderly and love humbly. … We have to be missionary disciples. We have to bring the love to all. We have to give them more hope."
"Our call is to advocate. … It is about how we need to be the voice for those who cannot," Castro added. "We are not alone. Many people are protecting and advocating for all."
Both women aid they plan to share the bishops' pastoral letter against racism within their ministries and throughout the diocese.