Diocese now has post-abortion healing ministry
Friday, Nov. 20, 2020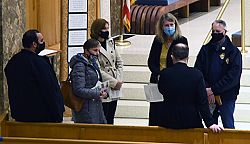 IC photo/Marie Mischel
+ Enlarge
SALT LAKE CITY — Project Rachel, a national ministry that offers solace and healing to people affected by abortion, now is present in the Diocese of Salt Lake City.
In a homily during a Nov. 14 Mass at Saint Ambrose Parish that celebrated the launch of the diocesan Project Rachel ministry, Fr. Erik Richtsteig, pastor, said that abortion affects not only women who have one, but also men who coerce women into having one, or who support them, or procure an abortion.
This Mass was a memorial for anyone who has suffered an early infant loss through abortion, miscarriage, stillbirth or other means.
Sometimes people think that their sin is so horrendous that God won't forgive them, but "the message of the Church is one of healing and forgiveness; a call to repentance, so that burden can be lifted; a call to repentance so that forgiveness may be granted," Fr. Richtsteig said.
He urged people to seek healing and also to provide healing. "We are blessed now in this diocese to have Project Rachel, which is a great ministry to those who are suffering because of their involvement in this sin" of abortion, he added.
The Roe v Wade Supreme Court decision in 1973 made abortion legal in the United States. "With the passage of time, we are now more aware of the many ways abortion can hurt women, as well as fathers, grandparents and others," said Dr. Catherine Stokes, chairperson of the diocesan Respect for Life Commission. "Some women struggle with guilt and shame after the decision. Others live with deep, unrecognized grief we cannot share. Some are depressed, or live in fear of God's judgment. Women who have had abortions may have problems with intimacy, or have difficulty bonding with their other children. Anger issues, sleep problems, drug abuse – all of these may be the result of a previous abortion."
As part of the Catholic Church's nationwide effort to help those affected by abortion, Project Rachel Ministry has been launched in the Diocese of Salt Lake City, and "We are reaching out to you and inviting you to join us," Stokes said. "If you suffer after abortion, be assured of God's love and mercy. … Please consider beginning your healing journey and encountering God's mercy by speaking to your parish priest or deacon. You are also welcome to call our confidential Project Rachel Ministry helpline to make an appointment with a therapist."
Confidential, one-on-one sessions will be offered by Amy Davis, a licensed professional clinical counselor. To make an appointment, call 801 328-8641 and leave a message for Amy.
The Project Rachel ministry also welcomes prayer support, Stokes said. "We are expanding our ministry to those who would like to help in this crucial way."
Those interested in being part of the Project Rachel healing prayer team may contact Stokes at diocesanrespectlifecommission@dioslc.org.
For information about Project Rachel, visit hopeafterabortion.com.
The diocesan Respect for Life Commission is planning additional Masses of Hope and Healing in 2021, Stokes said.