Diocese offers guidelines for gradual reopening of churches for public worship
Friday, May. 08, 2020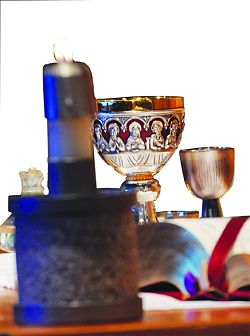 Intermountain Catholic
+ Enlarge
SALT LAKE CITY — On May 1, Msgr. Colin F. Bircumshaw, vicar general of the Diocese of Salt Lake City, sent a memo to the priests in the diocese regarding the re-opening of churches following the cessation of public worship because of the COVID-19 pandemic.
That day, Governor Gary Herbert eased the restrictions for social distancing and allowed social gatherings of up to 20 people.
"Until clearer directives are received, Bishop [Oscar A.] Solis has authorized pastors and administrators to begin public celebration of the Eucharist, but for no more than 20 people at a time, including the celebrant and ministers starting Monday, May 4, 2020," Msgr. Bircumshaw wrote in his memo.
The vicar general also outlined numerous precautions that must be observed. These include:
• At each Eucharistic celebration, no more than 20 people will be allowed in the church;
• Social distancing must be maintained at all times – six feet between congregants. Parents or older siblings will be allowed to sit with one or two younger children. All seats should be marked to guide the faithful to maintain the proper distance;
• Churchgoers must wear masks when entering or exiting the church, but may remove them once they are seated;
• Pastors will need to plan how to accommodate the limited number who can attend Mass, and inform their parishioners about sign-up procedures.
• Attendance at weekday Masses will be allowed as a way of fulfilling the Sunday obligation, but weekday Masses must follow the above restrictions;
• Earlier provisions remain – no shaking
of hands during the Sign of Peace, the Precious Blood will not be offered, and Holy Communion will only be distributed in the hand;
• Celebrants and extraordinary ministers of Holy Communion will bring Communion to the faithful in their seats to better facilitate social distancing;
• A plan must be developed to limit the number of people who are in the restroom at the same time, and tape should be placed on the floor outside the door to indicate where people should stand to maintain a 6-foot distance;
• Choirs are discouraged because the close proximity of the members could increase the risk of spreading the disease;
• Collection baskets are not to be passed from person to person. Long-handled baskets may be used if the usher can remain a suitable distance from others. An alternative is to set up collection points where the faithful can place their contributions;
• After every liturgy, the pews and seats that had been occupied will need to be sanitized;
• The faithful are asked to not visit socially before or after the liturgy – no coffee and donuts.
Msgr. Bircumshaw suggested that parishes continue to livestream the liturgy for those who are sick, vulnerable or homebound. He also suggested that parishes add Masses to their schedule to offer more opportunities for parishioners, but added that they are not required to do so.
A dispensation of the Sunday obligation will remain in effect for all those who are not able to sign up for a Mass, those who are vulnerable to the virus, or who feel unsafe at a public gathering at this time, the vicar general said.
Those who are at higher risk from COVID-19 are encouraged to stay home, and anyone who is not feeling well should refrain from attending Mass, he said.
"At present, we are still awaiting from the governor's office further decision and clarification regarding the provisions on church gatherings," Msgr. Bircumshaw said in the memo. "Please use your prudence and common sense to protect the lives of the people of God and safeguard the health of everyone as we carry out our ministry."