Diocese's international community celebrates the Blessed Virgin Mary
Friday, Sep. 15, 2017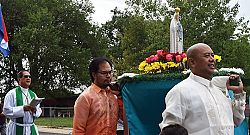 IC photo/Marie Mischel
Photo 1 of 6
OREM — Our Lady of Fatima, Our Mother of Perpetual Help, La Virgen de Talpa, Our Lady of Good Counsel, the Virgin of Guadalupe, the Immaculate Heart of Mary – all these and many other representations of the Blessed Mother were on display Sept. 9 at Saint Francis of Assisi Parish during the seventh annual diocesan Intercultural Marian celebration.
Hundreds of people from parishes throughout Utah processed through the streets near the church, singing Marian hymns as they carried statues of Mary on platforms or banners with her image as she has appeared in regions throughout the world. Many of those participating in the procession wore attire native to their countries of origin. They also carried flags of the nations in which Mary has appeared in her various representations.
Bishop Oscar A. Solis walked at the head of the procession, which was led by a team of men carrying a statue of Our Lady of Fatima.
This year is the centennial of Our Lady of Fatima, who appeared to three shepherd children in Fatima, Portugal, from May 13 to Oct. 13, 1917.
Following the procession, participants gathered to recite the joyful mysteries of the rosary as members of the youth ministries of Sacred Heart and St. Francis of Assisi parishes formed a rosary by carrying balloons representing each bead.
After the procession, Bishop Solis presided at a Mass, which was concelebrated by Father Jorge Martinez, parochial vicar of St. Francis of Assisi Parish. Deacons Doug Biediger and Julio Palomino assisted.
"It is a great blessing to celebrate the names of representations of the Blessed Mother and the countries they came from … invoking her intercession for peace in our world, in society, in our family and in our own personal lives," Bishop Solis said.
The Virgin Mary gives assurance of God's loving presence and his gift of salvation to the world, the bishop said, adding that she is a source of strength and an inspiration. "How blessed we are to gather today in the name of Our Lady of Fatima. … We continue to pray for our country and our world and especially for peace."
After the Mass was a reception that included food from various regions of the world as well as cultural dances and music from different cultural communities.