Dolores Gossner Wheeler
Friday, Dec. 07, 2018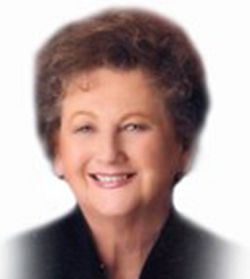 Courtesy photo
+ Enlarge
July 7, 1937 ~ November 21, 2018
Dolores Gossner Wheeler passed away surrounded by family in her home after a courageous battle with breast cancer November 21, 2018, exactly two years after her husband, Allen, passed away.
Dolores was born July 7, 1937, in Darlington, Wisconsin, to Swiss immigrants, Edwin Gossner Sr. and Josephine Oechslin Gossner. Dolores spent her early years in Wisconsin and California, where her dad was a cheesemaker. She was just 4 years old when her family drove through Cache Valley on a vacation to Yellowstone. "The little Switzerland of the Rockies" called to her parents, and they set down cheese-making roots in the dairy-rich valley.
Much to the disappointment of her mom, who wanted Dolores to go to college, a young country boy gave Dolores a diamond ring for graduation. On September 17, 1955, she married Allen Wheeler at St. Thomas Aquinas Catholic Church in Logan, Utah. Dolores and Allen bought a small home in Lewiston, where they would build a sizable farm over their lifetime together.
Dolores balanced raising two beautiful daughters with working on the farm and working at the family-owned cheese plant. Through her example, she taught her daughters the value of hard work. Dolores was a great cook and loved to prepare a feast for holidays and family celebrations.
In 1984, Dolores became president, CEO and chairwoman of the board for Gossner Foods. When her father died in 1987 the company was small and struggling, and under Dolores' careful watch, the company has grown and prospered. Dolores truly loved her employees, producers and milk haulers, and put her heart and soul into giving back to them and to the community. She received many professional honors and awards during her career, including serving as the first woman chair of the board of the Utah Manufacturers Association, Utah Entrepreneur of the Year and Utah Manufacturer of the Year.
Dolores is survived by her daughters Trish (Wayne) Gibbs and Dixie (Alan) Udy; grandchildren Kristan (Casey) Earl, Travis (Sarah) Gibbs, Cody Udy, Dusty (Tawny) Udy, Tyler Udy (Christina), and Nicole (AJ) Sanchez; and 12 great-grandkids; each one held a special place in her heart.
She was preceded in death by her dear husband, Allen Wheeler; parents Edwin Sr. and Josephine Gossner; in-laws Lloyd and Delva Wheeler; brother Edwin Jr. (Donna) Gossner; and a grandson, Ryan Udy.
A funeral Mass was celebrated November 28 at St. Thomas Aquinas Catholic Church. Dolores was buried next to her husband and parents in the Smithfield City Cemetery.
Dolores was proud to contribute personally and through the family business to facilitate better cancer care in Cache Valley through the Gossner Cancer Center, which will open in spring 2019. As a family, we would like thank Dr. Haslam, Dr. Johnson and everyone at the cancer center and infusion center, also her lifelong physician and friend Dr. Hirst, for the care that was provided to her. In honor of her commitment to fight cancer, please consider a donation, in lieu of flowers, to the Gossner Cancer Center through the Logan Regional Hospital Foundation, 435-716-5430.
Condolences may be expressed online at www.allenmortuaries.net.