Eamon de Valera (Dee) Murnin
Friday, Mar. 15, 2019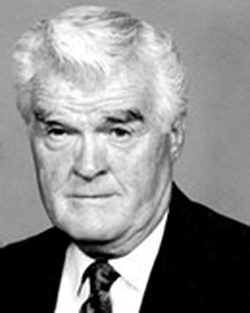 Courtesy photo
+ Enlarge
July 18, 1927 ~ March 5, 2019
Eamon de Valera Murnin was born on July 18, 1927, in Snyderville. He passed away March 5, 2019, at his home in Centerville, in the presence of his family. He was the fifth of six sons born to James Murnin and Ellen Caulfield, Irish immigrants to Park City. His mother died when he was only 1, leaving his father to raise six boys on his own.
He attended Park City High School, and served his country as a platoon sergeant in the Army during the Korean conflict. He and the Murnin boys ran a dairy in Snyderville. Dee was a tremendous athlete, and he and his brother Willie played football for the Park City High School Miners. Farm-boy strong from many mornings milking the cows before going to school, Dee was also a Golden Gloves boxing champ. He worked briefly in the Silver King Mine, and spent most of his career as a welder and fitter for Chicago Bridge and Iron in Salt Lake City.
He married Beverly Jean Hall in 1955 at Old St. Mary's Catholic Church in Park City. They moved to Centerville in 1957. Dee kept a large and immaculate yard on the same corner for over 60 years. He enjoyed spending time with his family, fishing, hiking and watching his beloved Notre Dame Fighting Irish. He was able to travel and see all three of his grandchildren graduate when he was 89 years old. He and Beverly were long-term parishioners of St. Olaf Catholic Church. He enjoyed all the friends he had in his church community.
He was proud of his Irish heritage. He was a kind and gentle man who was accepting of others. He will be greatly missed by his family and friends.
He is survived by his wife; sons Kelly (Mary Suchyta) and Terence (Cynthia Emmons); and grandchildren Patrick, Emily and Tara. He was preceded in death by brothers John, William, Barney, James and Terry.
A funeral Mass was celebrated March 9 at Saint Olaf Catholic Church. Committal followed at Mount Calvary Cemetery. Funeral directors Neil O'Donnell and Sons. In lieu of flowers, the family suggests donations to the St. Olaf's building fund.
May the road rise to meet you.
May the wind be always at your back.
May the sun shine warm upon your face.
And the rains fall soft upon your fields.
And until we meet again,
May God hold you in the palm of his hand.